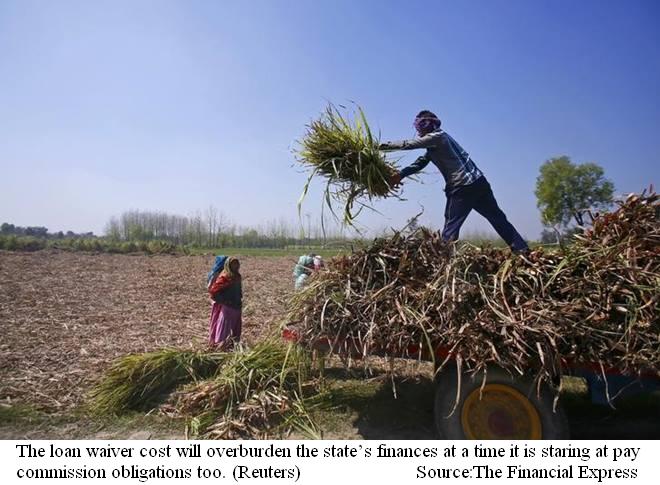 【New Delhi/Lucknow】A full waiver of Uttar Pradesh farmers' unpaid dues to commercial and cooperative banks, as promised by the BJP, might cost the state's exchequer about Rs 8,500 crore or roughly 0.67% of the gross state domestic product (GSDP) in 2016-17.
 This assumes the state's GSDP grows at close to national average in 2016-17 — it almost did last year — and that the year's budget, being revised soon, will take the full hit.
○Loan waivers negative for banks, MFIs: Analysts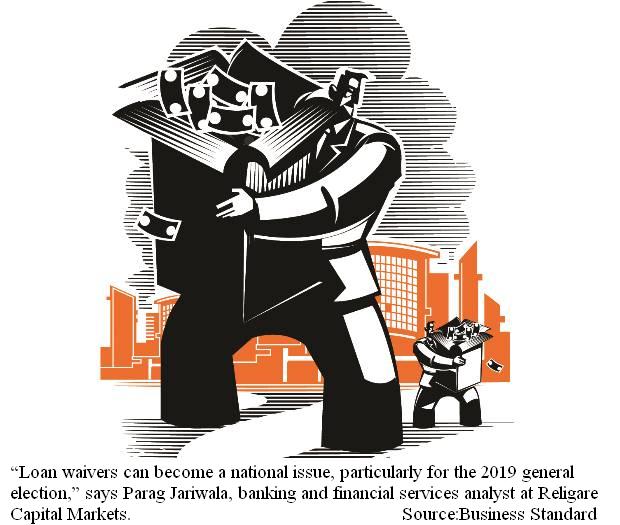 【Mumbai】A farm loan waiver following the Bharatiya Janata Party's win in Uttar Pradesh could exacerabte the issue of bad loans, particularly for public sector banks.
 Ahead of the recently concluded assembly elections in Uttar Pradesh, the BJP had promised to bring in a loan waiver scheme for farmers in the state, if its voted to power.
 Punjab National Bank would have a big impact, given its strong exposure in the Indo-Gangetic belt; so will State Bank of India, given its scale of business, believe analysts at Kotak Institutional Equities. They have higher exposure to this segment and are already struggling to stay afloat at a time of low capital, anaemic credit growth and high bad loans.
 Some lenders could see a rise in bad loans owing to loan waiver schemes likely to be announced across states, Kotak Institutional Equities said in a report on the 14th of March, adding that it was not able to take any conclusive decisions on the outcomes of such loan waivers as performance across states has not been uniform. It said that Uttar Pradesh and Punjab are critical states given that the banks have around 10% of loans in those states, mostly in the agriculture sector with high share of overdues between three and 10% across banks.
 Expressing reservations over farm loan waiver schemes, India's largest bank State Bank of India Chairman Arundhati Bhattacharya on the 15th of March said such sops may disrupt credit discipline among borrowers and raise hope of multiple future waivers.
【News source】
Uttar Pradesh elections 2017: PM Narendra Modi's promise on loan waiver may imperil the state's fiscal path
Loan waivers negative for banks, MFIs: Analysts
Bank NPAs crisis set to increase if UP farm loan waiver order is passed by next BJP government: Kotak
Farm loan waivers upset credit discipline: Arundhati Bhattacharya
No proposal on Uttar Pradesh farm loan waiver yet, says SBI Chairman Arundhati Bhattacharya
○One world:AD-SEAnews
SEAnews eBookstore
Readers' Voice
Your Comments / Unsubscribe
Please do not directly reply to the e-mail address which is used for delivering the newsletter.
SEAnewsFacebook
SEAnewsGoogle
SEAnews world circulation