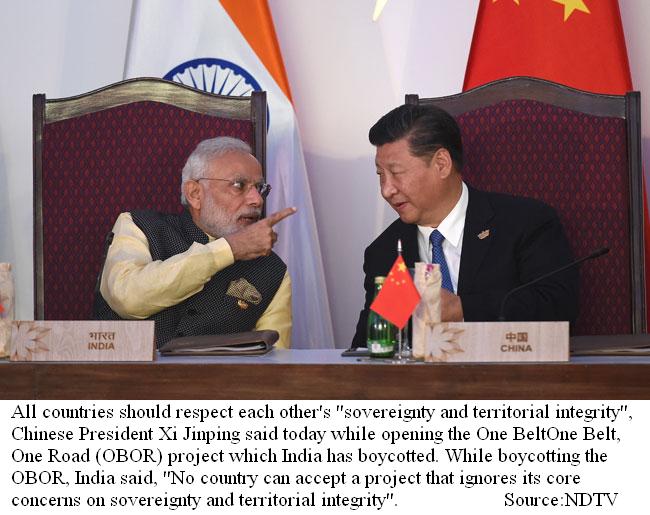 【New Delhi】China is making strong efforts to persuade India to join its 'One Belt, One Road (OBOR) initiative. India has, however, not yet openly agreed to be a part of the project which aims to connect the Eurasian landmass and Indo-Pacific maritime routes through an overland 'belt' and a 'maritime' silk road. The project envisages the construction of a maze of road, rail and port projects through a number of countries to connect mainland China to markets in Asia and Europe.
 The OBOR initiative includes a number of projects including the "flagship" China-Pakistan Economic Corridor (CPEC), Bangladesh-China-India-Myanmar Economic Corridor(BCIM-EC), New Eurasian Land Bridge, China-Mongolia-Russia Economic Corridor, China-Indochina Peninsula Economic Corridor and 21st Century Maritime Silk Road.
 Some experts have warned that India would end up isolating itself if it refuses to join the OBOR initiative, which has been apparently getting international support. Most of India's neighbours, including Nepal and Bangladesh, have already agreed to participate in the project.
 Talking about the benefits India would get by joining OBOR, Chinese ambassador to New Delhi Luo Zhaohui on Monday (08-05-2017) said New Delhi should grab economic opportunity offered by OBOR initiative. "Now the GDP of India is roughly that of China in 2004, some 13 years ago.
China leads India by 13 years mainly because we started reform and opening up 13 years earlier," he was quoted as saying by PTI.
○India must understand the challenge of China and not confront any neighbour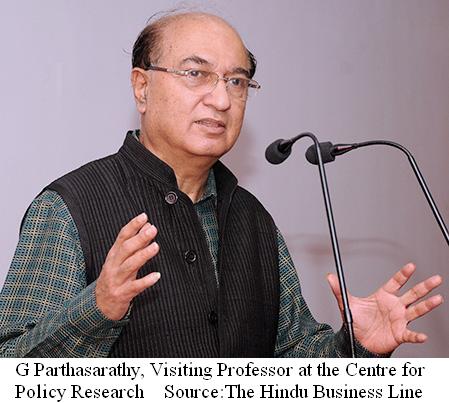 【Chennai】Dealing with China on security and economic issues is crucial for India but even if "we are no pushover, we cannot get provocative," asserted G Parthasarathy, Visiting Professor at the Centre for Policy Research, New Delhi.
 China is surrounding India with huge economic investments to strengthen its presence. Sri Lanka is in a debt trap after China funded mega infrastructure investments. Sri Lanka has handed over Hambantota port in a debt-equity swap, which now poses a huge threat to India; in Pakistan, Nepal and Africa too China is investing in large infrastructure projects. Pakistan could well go the way of Sri Lanka following the $50 billion China-Pakistan Economic Corridor which runs partly through a stretch that India claims as its own.
 Even Pakistan's nuclear programme is essentially that of China's, he said here on Saturday (25-03-2017) at an interaction organised by the Chennai International Centre. China's economy is five times India's GDP, it spends 6-8 times more on defence. "We should understand the challenge of China but it is not wise to confront any neighbour. For the next two decades we should focus on economic development," he felt.
○China, India lead Asia-Pacific energy mergers and acquisitions deals in 2016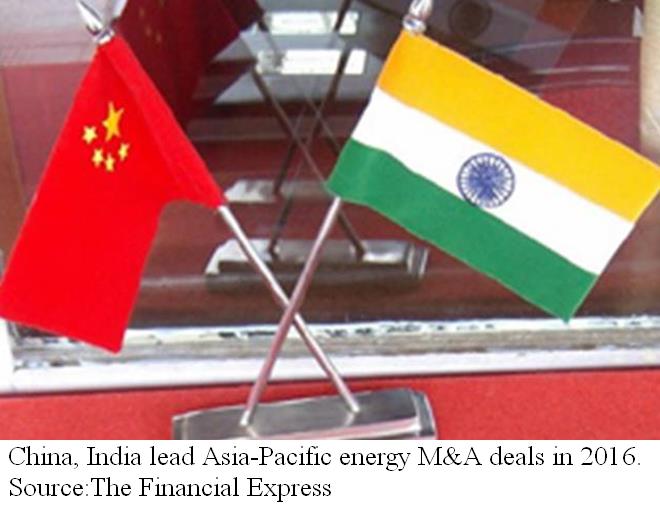 【New Delhi】The Asia-Pacific mergers and acquisitions in the energy space recorded 198 transactions valued at $77.6 billion in 2016. It logged a 33 per cent drop in value terms year-on-year while the number of deals were similar to 2015 (196) according to the report titled Volatility and opportunity: Energy M&A in Asia-Pacific by law firm Eversheds in collaboration with deal tracking firm Merger market.
 Market-wise, China maintained its top spot in 2016, accounting for 36 per cent of deals and 31 per cent of value. India had the second-largest year-end totals, accounting for 18 per cent of deals and 22 per cent of value, followed by Australia with corresponding figures of 11 per cent and 20 per cent, the report added.
 The Indian government has established clean energy targets such as 175 gw of renewable energy, or 15 per cent of total capacity, by 2022, of which 100 gw is expected to come from solar power.
○India, Australia sign 6 pacts including anti-terror pact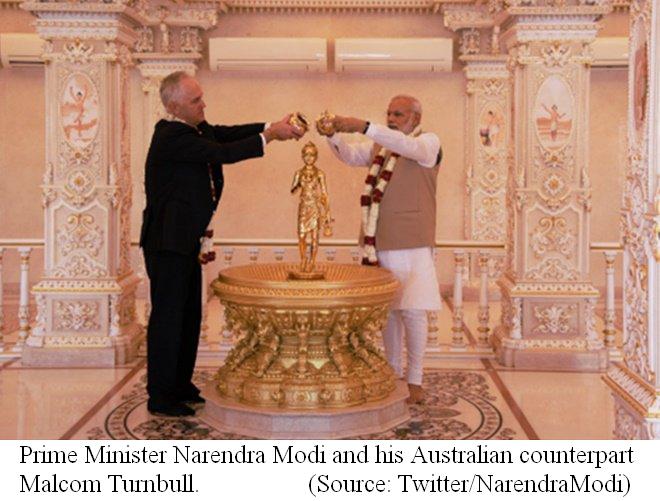 【New Delhi】India and Australia on the 10th of April inked six pacts including one aimed at boosting counter—terrorism cooperation after talks between Prime Minister Narendra Modi and his Australian counterpart Malcolm Turnbull here.
 The two leaders held comprehensive discussions on bilateral, regional and international issues of mutual interest and concern. At a joint press event with Turnbull, Modi said they reviewed the entire gamut of ties and took many "forward looking" decisions including one on early holding of the next round of talks on comprehensive economic cooperation agreement. Emphasising on peace and stability in the Indo—Pacific region, Modi said challenges like terrorism and cyber security require global strategy and solutions.
○India to import LPG from Iran to meet rising demand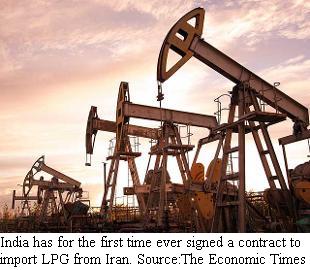 【New Delhi】India has for the first time ever signed a contract to import LPG from Iran as it looks at additional sources of cooking fuel to meet rising domestic demand.
 State-owned oil firms will import one very large gas carrier (VLGC), or 44,000 tonnes, per month for an initial six-month period, industry sources said.
India imports almost a million tonnes of LPG every month to meet rising demand that has been further fuelled by the government drive to give free gas connections to poor women.
LPG consumption in 2016-17 rose 9.8 per cent to 21.55 million tonnes.
Of this, 11 million tonnes came from imports.
【News source】
How India can counter China's OBOR, One Belt, One Road, initiative
As India Skips China Meet, A Message Seen In President Xi Jinping's Remarks: 10 Facts
India must understand the challenge of China and not confront any neighbour
China, India lead Asia-Pacific energy mergers and acquisitions deals in 2016
China, India lead Asia-Pacific energy mergers and acquisitions deals in 2016
China, India lead Asia-Pacific energy M&A deals in 2016
India, Australia sign 6 pacts
India-Australia joint statement: PM Narendra Modi, PM Malcolm Turnbull say committed to CECA
Australian PM Malcolm Turnbull's visit to India to boost free trade talks
Australian PM arrives on four-day India visit
Stepping up to a shared potential
India, Australia commit to deepen defence, security ties (Roundup)
India, Australia ink anti-terror pact
India to import LPG from Iran to meet rising demand
○One world:
The aim of SEAnews
◆Recruitment of Ad-SEAnews Canvassers
Your Comments / Unsubscribe
SEAnews Messenger
SEAnewsFacebook
SEAnewsGoogle
SEAnews eBookstore
SEAnews eBookstore(GoogleJ)
SEAnews world circulation