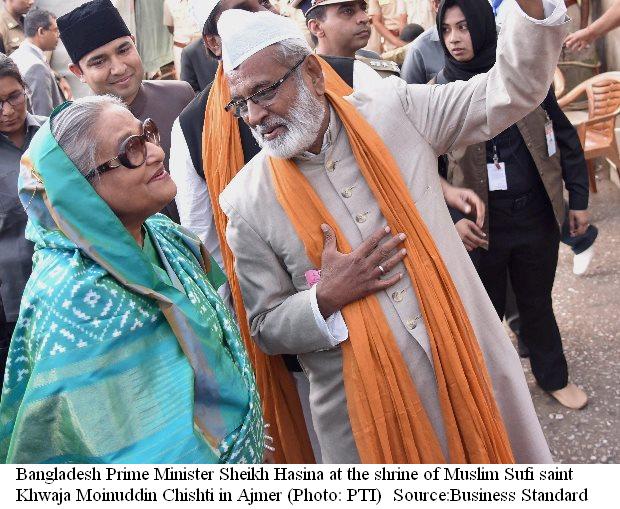 【New Delhi】Agreements and memoranda of understanding (MoUs) worth $9 billion of investments into Bangladesh will be signed between the Indian public and private sectors and the Bangladeshi side on Monday (10-04-2017).
 The 12 agreements will include an MoU of $2 billion in investments in the Bangladeshi power sector by Adani Power, a subsidiary of the Adani Group, agreements by Reliance Power and NTPC Vidyut Vyapar Nigam, and agreement between Container Corporation of India and Container Corporation of Bangladesh.
 India also committed a $4.5-billion line of credit for implementation of infrastructure projects in Bangladesh.
 The agreements will be signed in the presence of Bangladesh Prime Minister Sheikh Hasina, currently on a four-day visit to India, at a Confederation of Indian Industry (CII) event here on Monday.
○India to build diesel, gas pipelines to Bangladesh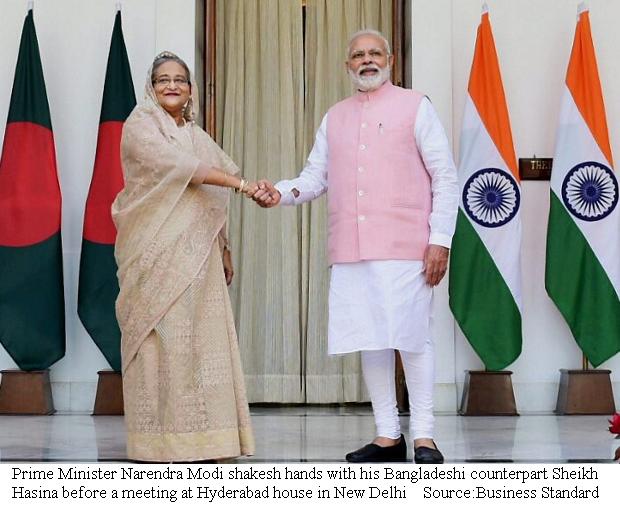 【New Delhi】India will build pipelines to carry diesel and natural gas to Bangladesh as the world's third largest energy consumer looks to strengthen ties with the neighbour.
 While a 131-km pipeline will be laid from from Siliguri in West Bengal to Parbatipur in northern Bangladesh to transport diesel, a line from Dattapulia in West Bengal will take natural gas to Khulna, the third-largest city of Bangladesh.
 Oil Secretary KD Tripathi said the pipelines are part of a non-binding Framework of Understanding which India will enter into with Bangladesh for cooperation in the hydrocarbon sector.
○Plan on water sharing fails to enthuse Dhaka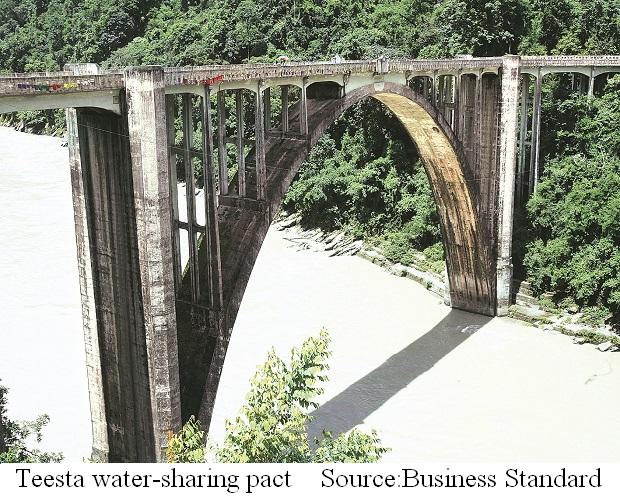 【New Delhi】A new proposal by West Bengal Chief Minister Mamata Banerjee to end the impasse over the India-Bangladesh agreement on sharing of water of the river Teesta has failed to enthuse Dhaka.
 Bangladesh Prime Minister Sheikh Hasina indicated that she was not convinced by Mamata's proposal that New Delhi should work out an arrangement with Dhaka for providing water to the neighbouring country from other rivers in northern region of her state.
 Referring to Mamata as "Didimoni" (schoolmistress or elder sister), Hasina said she was not sure how the chief minister would act on the issue of Teesta. "But Modiji (Prime Minister Narendra Modi) assured me that he would see what he could do (to end the impasse)," she said at an event held by India Foundation.
 Hasina, who concluded her four-day visit on Monday, said when India and Bangladesh would be able to clinch the deal on Teesta water-sharing, the bilateral relations between the two nations would undergo "another transformation".(Deccan Herald)
 The big disappointment during Bangladesh Prime Minister Sheikh Hasina's visit to India was the failure to finalise the Teesta water sharing agreement between the two countries. Data available with thethirdpole.net shows this was because the river now has only one-sixteenth of the water needed for agriculture by the two countries during the dry season, from February to May. Little wonder that West Bengal Chief Minister Mamata Banerjee opposed the agreement tooth and nail.(Business Standard)
【News source】
India, Bangladesh to sign investment pacts worth $9 billion
Energy ties in focus as India, Bangladesh companies sign 13 pacts
India to build diesel, gas pipelines to Bangladesh
India to build diesel, gas pipelines to Bangladesh
India to build diesel, gas pipelines to Bangladesh
Oil and Gas agreement will further ease India, Bangladesh relations
Plan on water sharing fails to enthuse Dhaka
India-Bangladesh Teesta deal: River has only one-sixteenth of water needed
Sweet water, sweet ties
○One world:
The aim of SEAnews
◆Recruitment of Ad-SEAnews Canvassers
Your Comments / Unsubscribe
SEAnews Messenger
SEAnewsFacebook
SEAnewsGoogle
SEAnews eBookstore
SEAnews eBookstore(GoogleJ)
SEAnews world circulation