2017-05-20 ArtNo.46000
◆Wind power business: Rational exuberance is in the air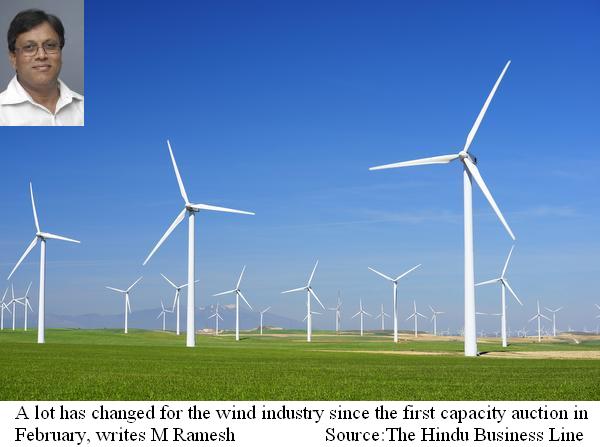 【New Delhi】One event changed it all. Until around mid 2016, the Indian wind power industry, which comprises wind turbine manufacturers and their customers, was mumbling and moaning about the future. Industry representatives were generally incorrigible whiners and they spoke endlessly of uncertainties in demand, vanishing subsidies, difficulties in land purchase and regulatory hurdles.
 The Indian market for wind turbines used to be around 2,500 MW, and a year that saw the 3,000 MW mark breached was considered a good year. When wind power installations touched 3,470 MW in 2015-16, it was a record.
 Then came the event – India's first auction of capacity – which concluded in February 2017. Till then energy companies (or "developers") would set up their wind farms keeping in mind the regulator-fixed tariff they would get from various States. The industry was comfortable with that feed-in tariff and it dreaded the spectre of auctions, which would mean that tariffs would be determined by competitive forces, and would consequently drop. When energy companies get lesser price for their kWhrs, the impact would be felt by the turbine manufacturers too.

 The one event – the capacity auction of February – proved that the industry's leap of faith would not land it in an abyss. The industry has safely jumped into rational exuberance.


○Solar power tariff drops to record low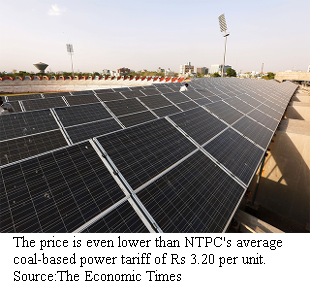 【New Delhi】Solar tariffs have fallen to a new low of Rs2.62 per kwH at the Solar Energy Corporation of India Ltd's (SECI) latest auction of 250 MW at the Bhadla Ph-IV Solar Park in Bhadla, Jodhpur district, Rajasthan.
 "Bhadla Ph-IV Solar Park results in a historic lowering of tariffs. Phelan Energy (50 MW) and Avaada Power (100 MW) have bagged projects at Rs. 2.62/unit. Softbank Cleantech has won 100 MW capacity at Rs. 2.63/unit," a senior official said.
 This price is lower than the average rate of power generated by the coal-fuelled power generation utility, NTPC Ltd, at Rs 3.20 per unit.
 "Another milestone towards Prime Minister Narendra Modi's vision of clean affordable power for all: Bhadla Solar Park achieves tariff of Rs 2.62/unit", Union Minister for Power and New & Renewable Energy Piyush Goyal tweeted on Wednesday (May 10 2017).


○Centre's extension of tax benefits to mega power projects unlikely to effect revival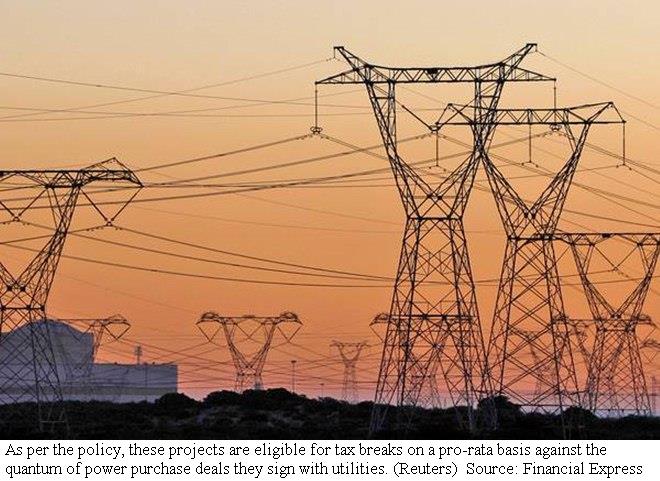 【Mumbai】The government's decision to extend the tax benefits for 25 mega power projects by five years is unlikely to help them take off before 2022 unless major concerns of getting fuel linkages and power purchase agreements (PPA) remain unaddressed, analysts feel.
 Since the launch of Mega Power Policy in 2009, only 11,000 MW projects have been commissioned out of 32,000 MW that got mega power status.
Majority of these projects could not see the light of the day due to non availability of land and fuel linkages and even in cases where plants were set up, lack of PPAs have left them stranded.


○Gujarat writes to Centre over electricity crisis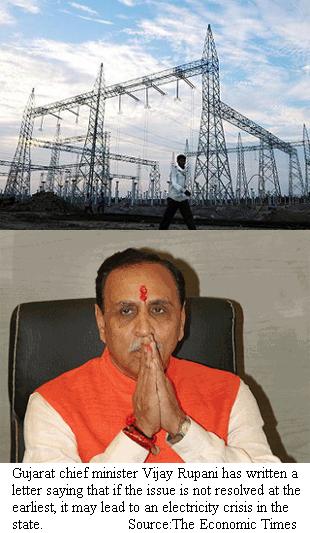 【New Delhi】The Gujarat government has written to the Centre saying the state faces an electricity crisis as Adani Power has told the state that running its imported coal-based power project at Mundra is increasingly becoming unviable.
 Last month, Supreme Court denied compensation to Adani Power's Mundra power plant for the rise in the price of coal that it imported from Indonesia.
 Two officials, including one from the finance ministry, confirmed that Gujarat chief minister Vijay Rupani has written a letter saying that if the issue is not resolved at the earliest, it may lead to an electricity crisis in the state.
【News source】

Rational exuberance is in the air

Solar power tariff drops to record low

Solar power tariffs drop to all-time low of Rs 2.62 per unit

Solar power tariff drops to all-time low of Rs 2.62 per unit

Solar tariff dips to new low at Solar Corporation of India's latest auction

Centre's extension of tax benefits to mega power projects unlikely to effect revival; here's why

Gujarat writes to Centre over electricity crisis

○One world:
The aim of SEAnews


◆Recruitment of Ad-SEAnews Canvassers
Your Comments / Unsubscribe
SEAnews Messenger
SEAnewsFacebook
SEAnewsGoogle
SEAnews eBookstore
SEAnews eBookstore(GoogleJ)
SEAnews world circulation