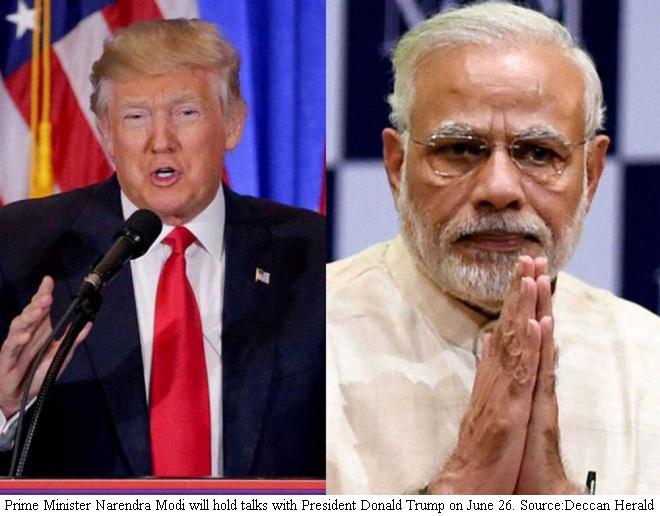 【New Delhi】The Ministry of External Affairs on Monday(12-06-2017) confirmed that Prime Minister Narendra Modi would meet US President Donald Trump at the White House on June 26. The meeting is going to be the first top-level engagement between India and the US after the new administration took over in Washington.
 The meeting will take place a few weeks after the US President caused unease in New Delhi by alleging that India had made its participation in the Paris Agreement "contingent on receiving billions and billions and billions of dollars in foreign aid from developed countries". New Delhi sharply rejected the allegation, with Modi recalling India's millennia-old commitment to the environment.
 Also, earlier this year, New Delhi had strongly rejected a proposal by the US Administration to mediate between India and Pakistan. A source told DH that Modi would urge Trump to stop the flow of US aid to Pakistan till Islamabad shed its selective approach in combatting terror.
The prime minister would also convey to the US president New Delhi's concerns over the executive order he signed a few months ago for a review of the H1B visa regime – a move that could affect Indian Information Technology professionals working in America.
○Grind begins for presidential election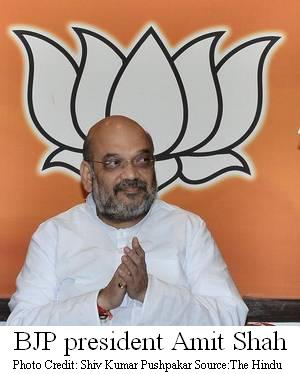 【New Delhi】As Pranab Mukherjee's term ends on July 24, the Election Commission has announced that voting to elect India's next President will be held on July 17, with counting on July 20, if needed.
 BJP president Amit Shah on the 12th of June constituted a three-member committee to reach out to other political parties for a consensus on the National Democratic Alliance's candidate for the coming presidential poll. Union Ministers Rajnath Singh, Arun Jaitley and M. Venkaiah Naidu are its members.
 The last date for nomination for the election is June 28. Sources said the Congress could also agree if the BJP-led NDA comes up with a candidate from the Dalit or tribal communities. The Opposition camp feels that the BJP may look for candidates like a former chief justice.
 The electoral college comprises elected members of both Houses of Parliament and elected members of the legislative Assemblies of all states, besides Delhi and Puducherry. A total of 4,896 voters, comprising 4,120 members of legislative Assembly (MLAs) and 776 elected Members of Parliament (MPs).
【News source】
Modi to meet Trump on June 26
Can India decode Trump's book of deals?
BJP forms panel to forge consensus on presidential candidate
Oppn parties feel govt may name acceptable candidate
Grind begins for presidential election: Who can vote, dates and schedule
○One world:
AD-SEAnews
◆Recruitment of Ad-SEAnews Canvassers
Your Comments / Unsubscribe
SEAnews Twitter
SEAnews Messenger
SEAnewsFacebook
SEAnewsGoogle
SEAnews eBookstore
SEAnews eBookstore(GoogleJ)
SEAnews world circulation