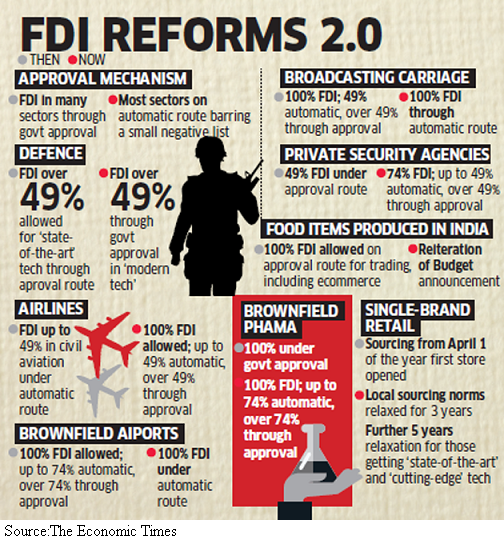 【New Delhi】The government announced sweeping changes in India's foreign direct investment policy, opening up the airline business to 100 per cent ownership, relaxing rules for singlebrand retail and defence and putting most sectors on the automatic approval route, continuing with the reforms programme that was kicked off after state polls ended last month.
 Foreign investments are considered crucial for India, which needs around USD 1 trillion for overhauling its infrastructure sector such as ports, airports and highways to boost growth. Foreign investments will help improve the country's balance of payments situation and strengthen the rupee value against other global currencies, especially the US dollar.
○Tax may rise on outbound M&As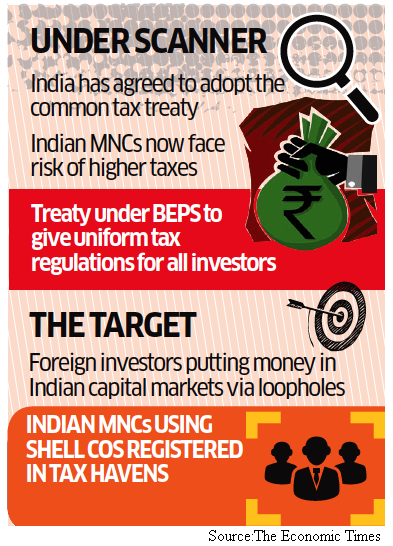 【Mumbai】Indian companies are preparing to shift overseas investment companies from tax havens such as Mauritius after about 100 countries, including India, agreed to adopt a common tax treaty curbing loopholes frequently used by multinationals to avoid taxes.
 The base erosion and profit shifting framework (BEPS) is aimed at providing uniform tax regulations for all investors, irrespective of which destination they come from and where they invest. For India, this seems to be aimed at bringing into the tax net some foreign investors investing in domestic capital markets by taking advantage of few loopholes.
 But many companies are also waking up to the undesired consequence of this. Indian companies now realise that this could mean higher taxes on existing investments in foreign soil routed through Mauritius, Cayman Islands and British Virgin Islands etc especially if they have used shell companies registered in such havens.
【News source】
Modi government approves 100% FDI in aviation and food, easier norms for defence, pharma, single-brand retail
Nine FDI doors flung open, aviation, defence, single-brand retail among key sectors
Government mulls FDI norms easing in print media, construction, retail
Tax may rise on outbound M&As, Indian MNCs' investments
○One world:
The aim of SEAnews
◆Recruitment of Ad-SEAnews Canvassers
Your Comments / Unsubscribe
SEAnews Twitter
SEAnews Messenger
SEAnewsFacebook
SEAnewsGoogle
SEAnews eBookstore
SEAnews eBookstore(GoogleJ)
SEAnews world circulation