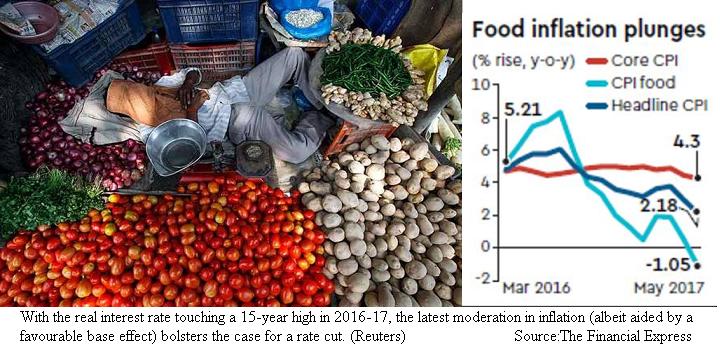 【New Delhi】Retail inflation hit a record low of 2.18% in May, mainly as food inflation touched a fresh low of -1.05%, partly reflecting the crash in prices of farm items following a good harvest.
 With the real interest rate touching a 15-year high in 2016-17, the latest moderation in inflation (albeit aided by a favourable base effect) bolsters the case for a rate cut.
 It also brings to the fore the "plausible alternative macroeconomic assessment" put out by chief economic adviser Arvind Subramanian after the Reserve Bank of India's monetary policy committee (MPC) decided to keep key policy rates unchanged last week: "(the RBI's) inflation forecast errors have been large and systematically one-sided in overstating inflation".
 Industrial production output, however, slowed to 3.1% year-on-year in April due to manufacturing, mining and power sectors showing poorly. The government data showed manufacturing sector, which constitutes nearly 78% of the industrial production index, grew at 2.6% in April compared with 5.5% in April last year.
【News source】
Retail inflation hits record low of 2.8 percent in May as food inflation touches -1.05 per cent
Inflation at record low of 2.18%; factory output slows to 3.1%

○One world:
AD-SEAnews
◆Recruitment of Ad-SEAnews Canvassers
Your Comments / Unsubscribe
SEAnews Twitter
SEAnews Messenger
SEAnewsFacebook
SEAnewsGoogle
SEAnews eBookstore
SEAnews eBookstore(GoogleJ)
SEAnews world circulation