【New Delhi】Since the start of this century, the world has seen a shift in power balance, courtesy China's emerging economic might, which challenged a US-dominant unipolar world that had been in existence since 1991 when the Soviet Union was dissolved, officially ending the Cold War.
 China, thanks to its burgeoning foreign exchange reserves, started exhibiting power and influence over economies. Chinese hegemony further got a fillip with the US ceding to its nationalistic views and becoming an inward-looking economy under Trump.
 When the previous US regime was negotiating the Trans Pacific Partnership (TPP), China — inspired by the ancient Silk Route — chalked out the 'One Belt and One Road' (OBOR) strategy. The TPP soon lost its steam with the Trump deciding to move out of it and OBOR caught the imagination of the world for its sheer promise of covering over 60 countries that form almost 30 per cent of world GDP and 60 per cent of the world's population.
 However, the initiative, which is largely motivated by concerns about slowing growth in China and the desire to boost China's global influence, has the potential to create an inextricable debt trap in most of the countries which comes under the ambit of OBOR. Cash-rich China is, perhaps, trying to make use of this opportunity to fulfil its expansionist tactics and lure countries to fund their infrastructure needs through Chinese funds. These funds may not be in the form of a grant, and would seek a return on the long term investments made, which in some cases could accrue much higher interest rates than offered under the overseas development assistance (ODA).
 Chinese investments in some countries under OBOR equals a decent slice of their GDP. For example Chinese investment proposals such as the $46 billion in China-Pakistan Economic Corridor is over 15 per cent of Pakistan's GDP; the $13 billion in Uzbekistan is 25 per cent of its GDP; while the one with Bangladesh which is to the tune of $24 billion is equivalent to almost 20 per cent of Bangladesh's GDP. This pattern of growing investments by China would increase the external debt of the OBOR economies towards China. The situation in Myanmar is grave, showing a negative 61.2 per cent external debt to reserves.
○India rolls out the red carpet for Myanmar military chief, with an eye firmly on China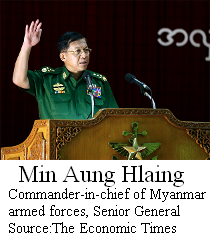 【New Delhi】India is going all out to make Myanmar military chief's eight-day visit here a resounding success with top-level meetings, visits to defence establishments and a series of banquets, at a time when Indian and Chinese troops are locked in a continuing stand-off near the Sikkim-Bhutan-Tibet tri-junction.
 Commander-in-chief of Myanmar armed forces, Senior General Min Aung Hlaing, is slated to meet PM Narendra Modi, defence minister Arun Jaitley and national security advisor Ajit Doval on July 14, after an extensive tour of India that began at Gaya on Friday (07-07-2017).
 Sources say India is ready to further crank up military supplies to Myanmar to counter Chinese strategic inroads into the country, as part of the overall plan to expand defence cooperation with ASEAN countries under the more action-oriented 'Act East' policy.
【News source】
Obor can lead to economic colonialism
India rolls out the red carpet for Myanmar military chief, with an eye firmly on China
○One world:
The aim of SEAnews
◆Recruitment of Ad-SEAnews Canvassers
Your Comments / Unsubscribe
SEAnews Twitter
SEAnews Messenger
SEAnewsFacebook
SEAnewsGoogle
SEAnews eBookstore
SEAnews eBookstore(GoogleJ)
SEAnews world circulation