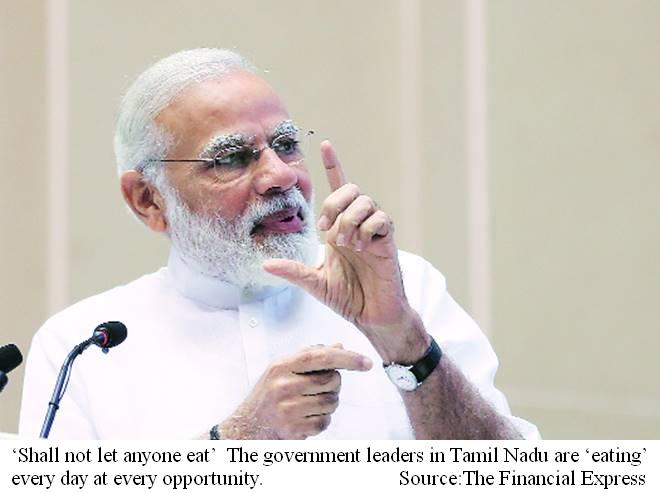 【Chennai】The government leaders in Tamil Nadu are 'eating' every day at every opportunity.
 Under the late Chief Minister of Tamil Nadu, Jayaram Jayalalitha, corruption flourished, but there was a functioning government too. Jayalalithaa has passed on (may her soul rest in peace) and it is no longer relevant to dwell upon that chapter in the history of Tamil Nadu.
 The popular belief is that the BJP is the puppeteer and is pulling the strings that hold the four factions.
It could be part of the BJP's political strategy to carve out a space for itself in Tamil Nadu politics.
It could be a tactical manoeuvre to garner the maximum number of votes for the election of the president and the vice-president. But if it is a long-term plan to win the AIADMK (or a major faction of the party) as an ally before forcing a mid-term poll in Tamil Nadu, then, serious questions will be raised.
 Today, the AIADMK party and the government are leaderless. Cases of corruption are exposed every day, but no one in the ruling faction of the AIADMK seems to care, smug in the belief that all factions of the AIADMK are in the clutches of the BJP-RSS, and nothing will be allowed that may lead to the defeat of the government.
【News source】
Shall not let anyone eat
○One world:
AD-SEAnews
◆Recruitment of Ad-SEAnews Canvassers
Your Comments / Unsubscribe
SEAnews Twitter
SEAnews Messenger
SEAnewsFacebook
SEAnewsGoogle
SEAnews eBookstore
SEAnews eBookstore(GoogleJ)
SEAnews world circulation