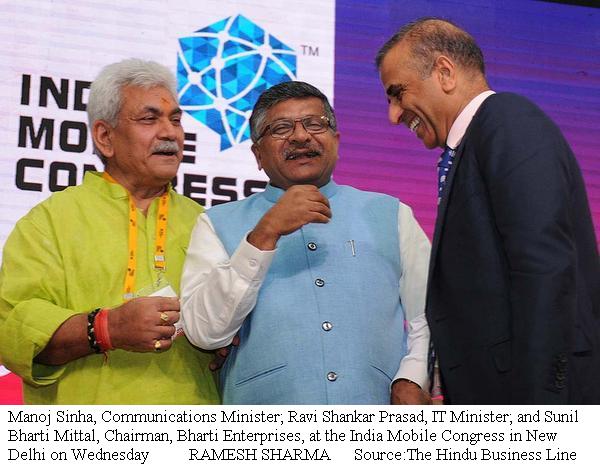 【New Delhi】Huawei Telecommunications India on the 27th of September said it has tied up with Bharti Airtel for the deployment of Airtel's Massive MIMO -- an integral component in India's roadmap to 5G deployment -- in Bengaluru.
 The company said the Massive MIMO solution can potentially increase spectrum efficiency by five to seven times, enhancing intensive coverage and user experience.
 The country's largest telecom services provider, Bharti Airtel, has said it will invest around Rs20,000 crore this year for expanding its network and digital infrastructure.
○Airtel to acquire Tata's mobile business for free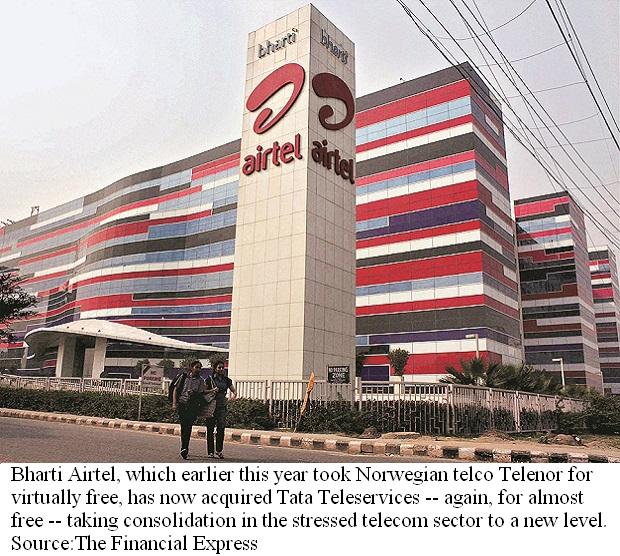 【Mumbai】Bharti Airtel is acquiring the Tata conglomerate's consumer mobile business, the two companies said on the 12th of October, in a deal that gives India's top wireless player a major subscriber base boost for virtually free, while stemming the bleed for Tata from a loss making venture.
 The transaction will be done on a "debt-free cash-free" basis, the companies said in their joint statement, although Bharti Airtel will take over a "small portion" of Tata's unpaid spectrum liabilities.
 Tata Teleservices and its unit Tata Teleservices (Maharashtra) have more than 40 million subscribers and rank ninth in India's telecoms market, which had a total of 1.2 billion mobile subscriptions at the end of July.
 The Indian telecom sector is in the midst of a wave of consolidation after the entry of Reliance Industries', Reliance Jio Infocomm venture.
○Government keeping watch on telcos' financial stress: Manoj Sinha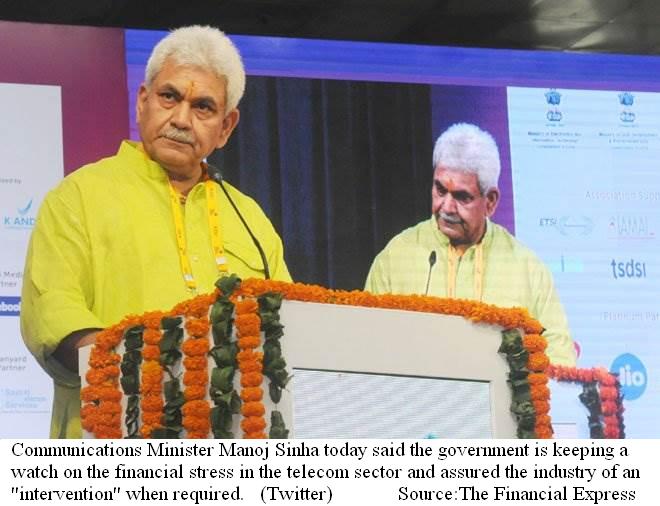 【New Delhi】Communications Minister Manoj Sinha on the 27th September said the government is keeping a watch on the financial stress in the telecom sector and assured the industry of an "intervention" when required.
 Addressing a conference at the India Mobile Congress, Sinha said that "legal opinion" is being taken on certain aspects of inter-ministerial panel's proposals related to stress in the Indian telecom sector but did not elaborate.
 Admitting that some players in the sector were feeling financially stressed, he said telecom is a "success story" and the government will ensure its continuity. "Government is aware of sector's financial stress and when required we have intervened. And in future also, if required, we will intervene," Sinha said.
【News source】
Airtel, Huawei India tie up to deploy Massive MIMO
Airtel to invest Rs20,000 cr this year to expand infrastructure
Airtel to acquire Tata's mobile business for free
Airtel to invest Rs20,000 cr this year to expand infrastructure
Airtel to acquire Tata's mobile business for free
Bharti Airtel gets Tata Teleservices for free in surprise move; deal dubbed win-win for all
Tata Tele hangs up on mobile business; Airtel picks it up
Bharti Airtel to acquire Tata's consumer mobile business
Bharti gets Tata Tele for nothing; Rs 1,500-cr spectrum payout only cost
How Tata Tele-Bharti Airtel deal was done in 5 days
Government keeping watch on telcos' financial stress: Manoj Sinha
○One world:
The aim of SEAnews
◆Recruitment of Ad-SEAnews Canvassers
Your Comments / Unsubscribe
SEAnews Twitter
SEAnews Messenger
SEAnewsFacebook
SEAnewsGoogle
SEAnews eBookstore
SEAnews eBookstore(GoogleJ)
SEAnews world circulation