◆Electric vehicles: JSW inks MoU with Gujarat, to invest Rs. 4,000 cr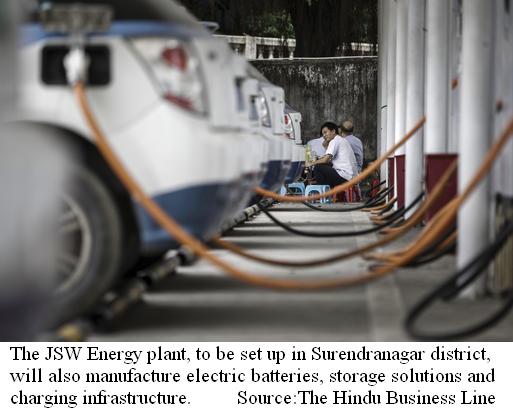 【Gandhinagar】JSW Energy Ltd, a division of the Jindal Group, will invest nearly Rs. 4,000 crore for setting up a manufacturing facility to make electric vehicles in Gujarat.
 An official spokesman said here on the 26th of September evening that the company has signed an MoU with the State government in the presence of Chief Minister Vijay Rupani and other officials. The plant, to be set up at Vanod near Dasada in Surendranagar district, will also manufacture electric batteries, electrical storage solutions and charging infrastructure. The facility is expected to generate 2,000 direct and 4,000 indirect jobs. Gujarat has agreed, in principle, to accord all departmental clearances to the company.
○Tesla talks with govt for India drive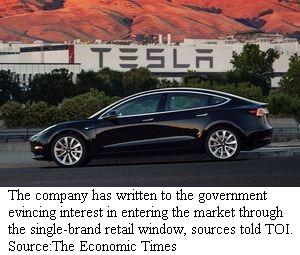 【New Delhi】Elon Musk-founded Tesla, which makes electric cars, has initiated talks with the government to enter India through the single-brand retail route, which comes with several riders including mandatory sourcing of up to 30% of the value of goods sold in the country, sources told TOI.
 "In discussions with the government of India requesting temporary relief on import penalties restrictions until a local factory is built," Musk had tweeted on June 15. Sources said granting an exemption may not be easy and in any case with duty in excess of 100% the import route did not make sense. The government is expected to formally reply to Tesla over the next few weeks, considering there is interest not just from buyers but even at the level of Prime Minister Narendra Modi, who had visited the company's headquarters in 2015 in what was seen as an attempt to get the company to India.
 The proposal comes amid a push from the government to move to electric vehicles with transport minister Nitin Gadkari recently reading the riot act at a recent conference of the Siam, the auto industry lobby group, where he talked about having only electric cars on Indian roads by 2030.
○Battery revolution that will power e-cars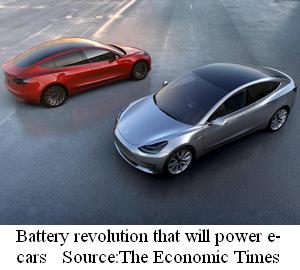 【Mumbai】Just a few years ago, electric cars were an option only for technology enthusiasts or hardcore environmentalists. By 2020, that picture will look very different.
 The electric car revolution is upon us, spurred on by environmental regulation, government incentives and rapid innovation. The International Energy Agency predicts the number of electric vehicles on the road worldwide will increa se from 2 million today to 20 million by 2020, and to 70 million by 2025.
 The Chinese government is set on boot-strapping its car industry into the electric age with tax breaks, research subsidies and a ruling that by 2020, 12% of all vehicles sold in the country must be electric. And the UK, France, Norway , India and several other countries intend to go one better by phasing out petrol and diesel engines entirely in the coming decades.
【News source】
Electric vehicles: JSW inks MoU with Gujarat, to invest Rs 4,000 cr
Tesla talks with govt for India drive
Battery revolution that will power e-cars
○One world:
The aim of SEAnews
◆Recruitment of Ad-SEAnews Canvassers
Your Comments / Unsubscribe
SEAnews Twitter
SEAnews Messenger
SEAnewsFacebook
SEAnewsGoogle
SEAnews eBookstore
SEAnews eBookstore(GoogleJ)
SEAnews world circulation