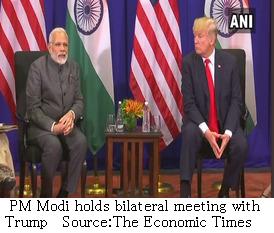 【Manila】Prime Minister Narendra Modi on the 13th of November told US President Donald Trump that both countries can rise beyond bilateral ties and work jointly for the future of Asia, reflecting their growing convergence on strategic issues in the Indo-Pacific region.
 During their wide-ranging talks which took place on the sidelines of the ASEAN summit in the Philippines, Modi assured Trump that India will try to "live up to the expectations" of the US and the world and also thanked the US President for speaking "highly" about India during his trips.
The meeting came a day after officials of India, the US, Japan and Australia held their talks to give shape to the much talked about quadrilateral alliance to keep the strategically important Indo-Pacific region free, open and inclusive.
"We are moving ahead together on many issues," Modi told Trump in his opening remarks.
The US has been pitching for greater Indo-US cooperation in the strategically key Indo-Pacific region where China has been ramping up its military presence.
【News source】
US, India relations can rise beyond bilateral ties: PM Modi to Donald Trump
○One world:
AD-SEAnews
◆Recruitment of Ad-SEAnews Canvassers
Your Comments / Unsubscribe
SEAnews Twitter
SEAnews Messenger
SEAnewsFacebook
SEAnewsGoogle
SEAnews eBookstore
SEAnews eBookstore(GoogleJ)
SEAnews world circulation