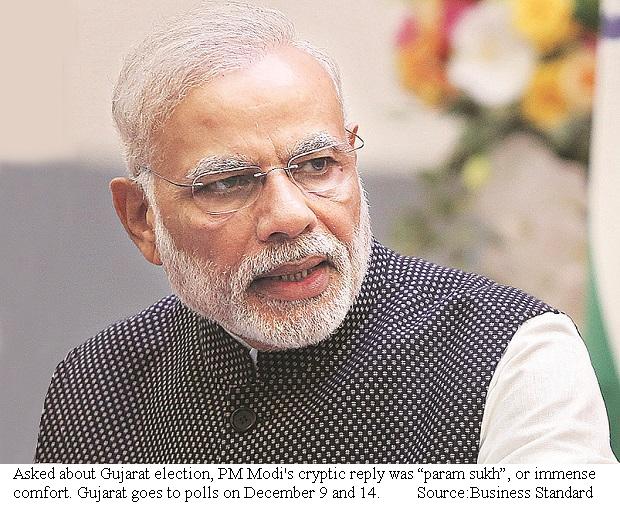 【New Delhi】Prime Minister Narendra Modi on the 28th of October indicated that the Bharatiya Janata Party (BJP) was more than confident of winning the Gujarat Assembly elections in December.
 After his brief speech at a Diwali get-together at the BJP headquarters, the PM interacted with journalists. Asked about Gujarat election, his cryptic reply was "param sukh", or immense comfort. Gujarat goes to polls on December 9 and 14.
 The PM, who has visited Gujarat thrice in October and nine times this year, didn't elaborate on the reasons for his confidence. But later a top BJP leader explained why the party could do better than even its 2012 Assembly poll performance. The leader said the BJP would showcase the Gujarat win as a referendum on the goods and services tax (GST), and the victory would be a fitting answer to all who have criticised the Modi government for the economic slowdown. The leader also said the Congress campaign in Gujarat would soon find itself sucked into a vortex of caste politics. He said the contradictions of Gujarat's caste politics will expose the Congress party's lack of any overarching vision for the state. "They have played the caste card too openly. It will boomerang," the leader said. BJP strategists think OBC (Other Backward Classes) leader Alpesh Thakore, Patidar (They were formally recognised as a separate identity in the 1931 census of India, having previously been classified as Kanbi.) leader Hardik Patel and Dalit leader Jignesh Mevani represent competing caste groups, which would make it difficult for these communities to come together on the ground.
○Gujarat and centre ideal example of cooperative federalism: Vijay Rupani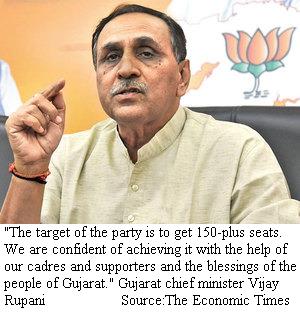 【Ahmedabad】In August 2016, Vijay Rupani succeeded Anandiben Patel as Gujarat chief minister.
Fourteen months later, he says he has achieved plenty, and is confident of the BJP winning over 150 seats (out of 182) in the two-phase assembly polls in December. Excerpts from an email interview with ET:
 My government has followed PM Narendra Modi's call of Sabka Sath Sabka Vikas (collective efforts-inclusive growth) and has sincerely taken forward the growth story of Gujarat. We have worked towards realising the aspirations of all sections of society and have striven to resolve the issues faced by our people. Standing by our farmers, we processed claims worth Rs 987 crore against the losses incurred by them in 2016 kharif season and rabi season in the past one year. We have decided to purchase groundnut at Rs 900 per 20 kg, a premium of Rs 250 per 20 kg compared to market prices. We have purchased groundnut and arhar dal worth Rs 1,719 crore at minimum support price last year. We recently announced a bonus of Rs 500 per quintal over and above the minimum support price for cotton. We will procure cotton worth Rs 1,250 crore starting from November 1. In the current budget, we have provisions for crop loans up to Rs 3 lakh at an interest rate of 1%. Now, we have decided to provide interest-free loans to farmers.
 The BIP's target for the elections is to get 150-plus seats. We are confident of achieving it with the help of our cadres and supporters and the blessings of the people of Gujarat.
○War of words escalates between BJP and Congress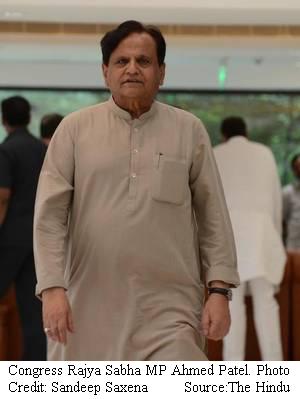 【Ahmedabad】Ahead of the Assembly polls in Gujarat, a war of words escalated between the Bharatiya Janata Party (BJP) and Congress over allegations levelled by Gujarat Chief Minister Vijay Rupani, linking Congress leader Ahmed Patel to an alleged Islamic State terrorist arrested by Gujarat's Anti Terrorist Squad (ATS) from Surat.
 Gujarat Chief Minister Vijay Rupani late on the 27th of October night stated that one of the alleged terrorists arrested by the ATS worked as a lab technician in a trust-run hospital in Bharuch, in which Mr. Patel was one of the trustees. Taking forward the allegations, Union Minister Mukhtar Abbas Naqvi demanded an explanation from the Congress party and asked how come a "terrorist" could work in the hospital in which Ahmed Patel was associated with. Mr Naqvi asked Congress President Sonia Gandhi and Vice President Rahul Gandhi to come clean on issue. Mr Naqvi cited the arrest made by Gujarat ATS and said Kasim Timberwala had worked with Sardar Patel Hospital in Ankleshwar where Mr Patel was a trustee. Immediately after Chief Minister made the allegations in a late night press conference, Ahmed Patel refuted and held that he had resigned as trustee of the hospital in 2013.
【News source】
Modi indicates BJP confident of winning Gujarat assembly elections
Nitish-led JD(U) to contest 4-5 seats in Gujarat
Gujarat and centre ideal example of cooperative federalism: Vijay Rupani
War of words escalates between BJP and Congress
Come clean on Ahmed Patel's IS links, BJP tells Congress
Allegations against Ahmed Patel baseless: Cong
ISIS case: Gujarat CM demands resignation of Ahmed Patel
○One world:
AD-SEAnews
◆Recruitment of Ad-SEAnews Canvassers
Your Comments / Unsubscribe
SEAnews Twitter
SEAnews Messenger
SEAnewsFacebook
SEAnewsGoogle
SEAnews eBookstore
SEAnews eBookstore(GoogleJ)
SEAnews world circulation