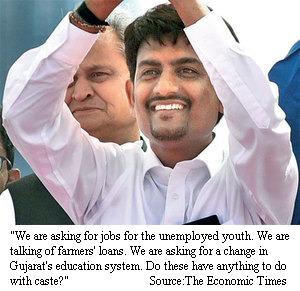 【Ahmedabad】Alpesh Thakor, founder of the OBC, SC, ST Ekta Manch (OSS), spoke to ET in Ahmedabad, a day after joining the Congress. Edited excerpts:
 We have been fighting for seven years for these issues: unemployment, farmers' loans, public education, which is ruined, and (private) education, which has become commercial, and despite prohibition, alcohol is being sold illegally. Our movement is present in 14,000 villages in 176 talukas in 26 zillas.
 We repeatedly asked the government to listen to our demands but they did not. So two months back, we asked the people in a survey if we should go to the BJP, the Congress or stay away from politics. Twenty lakh people out of 25 lakh told us we should join the Congress and there were 2 lakh Patidars in that 1.06 lakh people told us to join BJP.
 I had to do what the people wanted. If they had asked me not to enter politics I would not have. For the last one year we (OSS) have been involved in booth management in 108 assembly constituencies and in 77 constituencies, our booth management is 100% complete. The way we have done this, I can confidently say the Congress will win more than 125 seats.
○What Rahul Gandhi needs to do to take on Modi in Gujarat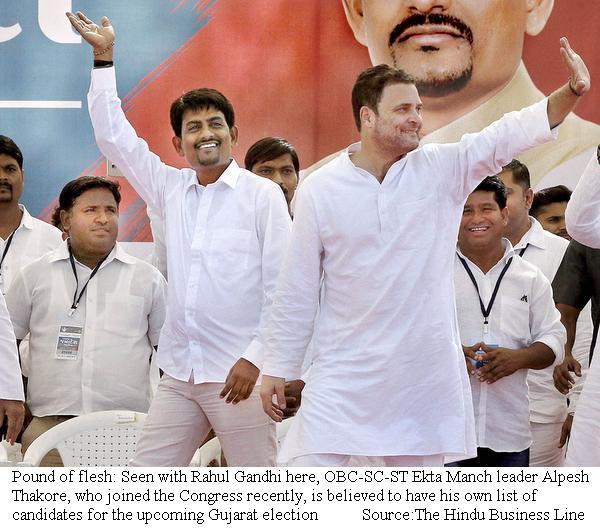 【Mumbai】In the weeks after National Conference (NC) president Omar Abdullah made the politically naive comment following the Bharatiya Janata Party's (BJP's) spectacular performance in Uttar Pradesh (and Uttarakhand) that opposition parties were best advised to forget 2019 and instead prepare for 2024, everyone would have shaken their heads if asked whether the BJP would face trouble extending its run in Gujarat.
 Opinion may be divided on whether the BJP faces a tangible threat to its stranglehold on the state where it has been in power for the past 22 years.
However, there is agreement among all, save party loyalists, that the party faces its severest test in more than two decades. Trial or not, that in recent weeks BJP leaders, including Prime Minister Narendra Modi, have been forced to bend their backs, underscores a political churn is underway. Moreover, a series of missteps, including Vijay Rupani's attempt to link Congress leader Ahmed Patel with a case where two youth have been arrested for alleged links with the IS, hints at panic setting in.
 There are, however, two factors that might eventually extricate the party from this turbulence: the power of Modi's campaign coupled with personal popularity and inherent contradictions in the social and political platform that appear to be coagulating against BJP and with Congress.
 On the face of it, the Congress strategy looks flawless. Alpesh Thakor, who has in the past two years emerged as the assertive and aggressive face of Other Backward Classes, is already part of the party, following in the footsteps of his father, a one-time Congress leader. Hardik Patel, at 24, was ironically born the year in which Modi was preparing the party strategy that eventually secured the first two-thirds majority in 1995 with 121 seats; now, he is giving the veteran of many a battle several worries, and has sworn to defeat the BJP.
Added to these two fiery debutant leaders is Jignesh Mevani, symbolising the fight for Dalit dignity, who too is hell-bent on queering the pitch for the party. With Mevani's Dalit rights organisation, the Rashtriya Dalit Adhikar Manch, having linkages with the Adivasi Kisan Sangharsh Morcha, the tribal land rights organisation active in south Gujarat, it appears that barring upper castes, the entire social matrix is ranged against the BJP.
But are things so easy for Congress and correspondingly tough for the ruling party?
【News source】
Congress will win more than 125 seats in Gajarat: Alpesh Thakor
What Rahul Gandhi needs to do to take on Modi in Gujarat
New entrants may not really water Cong's greenshoots
Dalit votes will go to Congress in Gujarat: Jignesh Mevani, convener, RDAM
Hardik sets Nov 3 deadline for Congress on Patidar quota
The importance of being Hardik Patel
○One world:
AD-SEAnews
◆Recruitment of Ad-SEAnews Canvassers
Your Comments / Unsubscribe
SEAnews Twitter
SEAnews Messenger
SEAnewsFacebook
SEAnewsGoogle
SEAnews eBookstore
SEAnews eBookstore(GoogleJ)
SEAnews world circulation