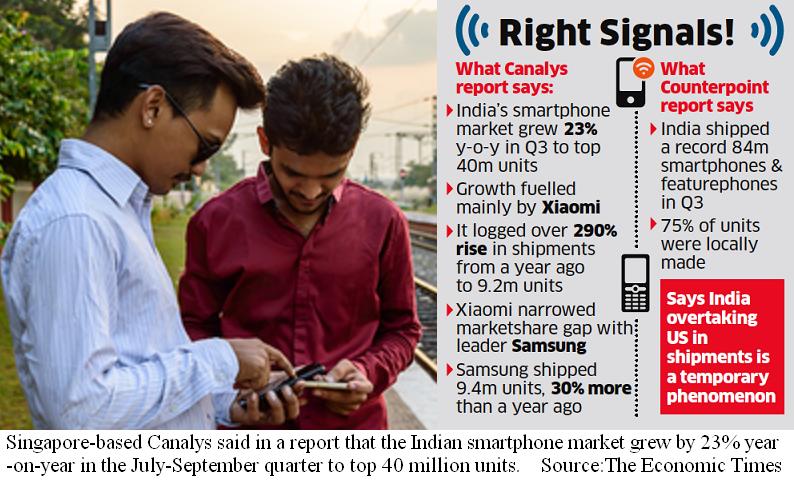 【New Delhi】India has pipped the US to become the world's second-largest smartphone market at the end of the third quarter, according to two research firms.
 Singapore-based Canalys said in a report that the Indian smartphone market grew by 23% year-on-year in the July-September quarter to top 40 million units, fuelled mainly by Xiaomi, which logged an over 290% increase in shipments from a year ago to 9.2 million units. Xiaomi further narrowed its market share gap with leader Samsung, which shipped 9.4 million units in the period, about 30% more than a year ago.
 The findings were similar to those of Hong Kong-based Counterpoint Research, which said India shipped a record 84 million units – smartphones and feature phones – during the quarter ended September, and 75% of the units were locally made. At present, more than 100 factories produce phones locally. Counterpoint, however, said India overtaking the US in shipments is a temporary phenomenon.
【News source】
With 23% Q3 growth, India pips US to become second-largest smartphone market
○One world:
AD-SEAnews
◆Recruitment of Ad-SEAnews Canvassers
Your Comments / Unsubscribe
SEAnews Twitter
SEAnews Messenger
SEAnewsFacebook
SEAnewsGoogle
SEAnews eBookstore
SEAnews eBookstore(GoogleJ)
SEAnews world circulation