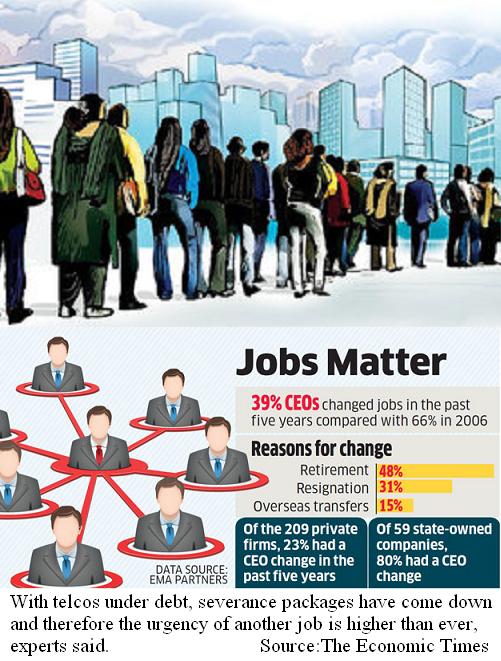 【Mumbai】All new handsets may not have a panic button yet, but hundreds of telecom executives are already making distressed calls to exit an industry where huge pressure on profits and revenues amid a brutal price war has triggered consolidation drive.
 Recruiters say there is 35-40% on year increase in the number of resumes coming in from employees in the telecom sector, and several of these executives are willing to take a significant salary cut even as many telcos are heading for shutdowns and mergers.
 Premier search firm Heidrick & Struggles said more than 15 CXO and top management officials, drawing salaries of between Rs 1.5-3.5 crore, have reached out to the firm for placement. "The market right now is such that there aren't enough opportunities for them in the telecom sector. So, more than 90% of the job seekers are looking at other sectors such as retail, ecommerce, transport, logistics and FMCG. Some are moving at the same salaries; others are open to taking a cut," said Vikram Chhachhi, principal, global consumer markets, at Heidrick & Struggles.
【News source】
Telecom executives rush to exit sector as companies eye consolidation
○One world:
AD-SEAnews
◆Recruitment of Ad-SEAnews Canvassers
Your Comments / Unsubscribe
SEAnews Twitter
SEAnews Messenger
SEAnewsFacebook
SEAnewsGoogle
SEAnews eBookstore
SEAnews eBookstore(GoogleJ)
SEAnews world circulation