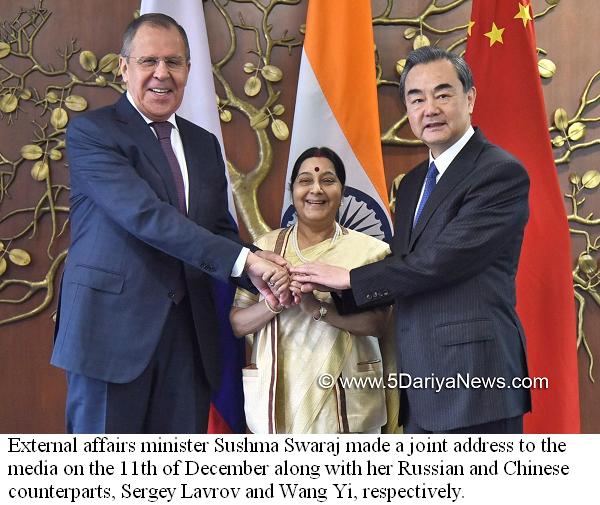 【New Delhi】India, Russia and China on the 11th of December, besides jointly condemning terrorism in all its forms and manifestations, emphasised the importance of an open and inclusive world economy enabling all countries to share the benefits of globalisation.
 External affairs minister Sushma Swaraj in a joint address to the media along with her Russian and Chinese counterparts, Sergey Lavrov and Wang Yi, respectively, said, "Our discussions today were focused on four broad clusters of areas, namely, economic and developmental issues, fight against terrorism, global and multilateral issues, and regional issues." And she said: "I have invited China and Russia for a more intensive trade and economic partnership so that they can take advantage of the economic opportunities available here."
 In their joint statement, the three countries were condemning terrorism in all its forms and manifestations and calling upon States to take adequate measures to prevent terrorist activities from their territory. While the three countries agreed to strengthen cooperation to take "decisive and concerted actions'' against globally proscribed terrorists and terror entities, including those listed by UNSC, missing from the joint communique was a direct mention of Pakistan based terror groups like LeT and JeM. Foreign minister Sushma Swaraj did say in her media statement though that she put across India's view that significant rise in acts of terrorism by terrorist organizations like "Taliban, Daesh (ISIS), Al-Qaeda, and LeT'' directly undermined international peace and security and endangered ongoing efforts to strengthen the global economy.
 By the way, this was the first visit to India by Wang after the Sino-Indian Doklam standoff.
【News source】
India, Russia, China condemn terrorism, call out for open world economy
Russia-India-China meet: Jaish, LeT not named in joint document
Sushma Swaraj, Chinese Foreign Minister Wang Yi discussed Siang river issue
○One world:
The aim of SEAnews
◆Recruitment of Ad-SEAnews Canvassers
Your Comments / Unsubscribe
SEAnews Twitter
SEAnews Messenger
SEAnewsFacebook
SEAnewsGoogle
SEAnews eBookstore
SEAnews eBookstore(GoogleJ)
SEAnews world circulation