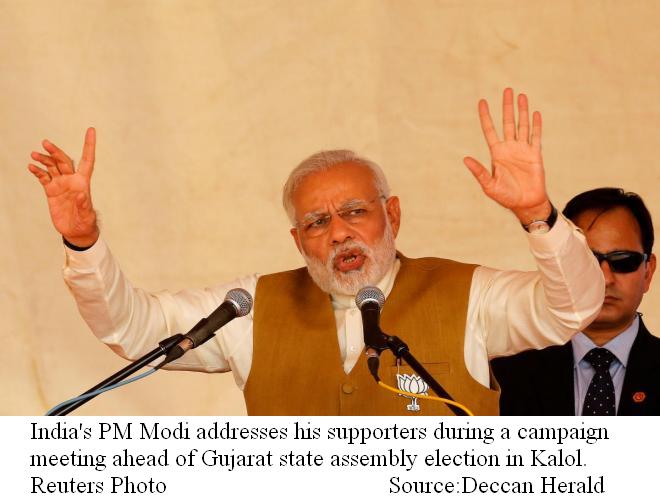 【Palanpur】Prime Minister Narendra Modi said on December 10 that Pakistan was interfering in Gujarat Assembly polls, and sought an explanation from the Congress over its top partymen who are said to have recently met leaders from the neighbouring country.
 Addressing a poll rally here, the prime minister also raised questions over the alleged appeal by former director general of the Pakistan Army, Sardar Arshad Rafiq, that senior Congress leader Ahmed Patel be made chief minister of Gujarat.
 The prime minister's remarks come a day after Mani Shankar Aiyar, the diplomat-turned politician, set off a political firestorm when he called Modi a "neech kism ka aadmi(despicable kind of man)". The Congress on December 7 suspended Aiyar from the primary membership of the party and issued him a show cause notice for his remarks.
 Modi said, "There were media reports yesterday about a meeting at Mani Shankar Aiyar's house. It was attended by Pakistan's high commissioner, Pakistan's former foreign minister, India's former vice president and former prime minister Manmohan Singh. The meeting at Aiyar's house went on for almost three hours. The next day, Mani Shankar Aiyar said Modi was 'neech'. This is a serious matter,"
 Modi added that Rafiq had backed Ahmed Patel as the next chief minister of Gujarat. "(On one side) Pakistan Army's former DG is interfering in Gujarat's election, on the other side, Pakistan's people are holding a meeting at Mani Shankar Aiyar's house," he said. "And, after that meeting, people of Gujarat, backward communities, poor people and Modi were insulted. Don't you think such events raise doubts," Modi asked.
 In addition, Modi accused suspended Congress leader Mani Shankar Aiyar of giving 'supari' (contract) while on a visit to Pakistan to get him "removed" from the way to ensure peace between India and the neighbouring country. "You had gone to Pakistan to give my 'supari', you wanted to give Modi's 'supari' (contract killing)," the PM said. "This conversation took place three years back. The Congress party had tried to suppress this episode...They did not take any action against him for last three years," Modi alleged.
 He said the Congress should inform the people of the country what exactly it was up to. "Let us not talk about that abuse, as people of Gujarat will look into it and give a reply and they (Congress) will know the result on December 18," he said.
【News source】
Pakistan is interfering in Gujarat election: Modi
Aiyar gave 'supari' in Pakistan to get me "removed": Modi
PM Modi says Pakistan meddling in Gujarat polls
Why does Pakistan want to make Ahmed Patel Gujarat CM, asks Modi
Mani Shankar Aiyar calls PM 'neech aadmi', Rahul asks him to apologise
Congress suspends Aiyar over remarks against Modi
Islamabad is trying to fix Gujarat polls, says Modi
○One world:
AD-SEAnews
◆Recruitment of Ad-SEAnews Canvassers
Your Comments / Unsubscribe
SEAnews Twitter
SEAnews Messenger
SEAnewsFacebook
SEAnewsGoogle
SEAnews eBookstore
SEAnews eBookstore(GoogleJ)
SEAnews world circulation