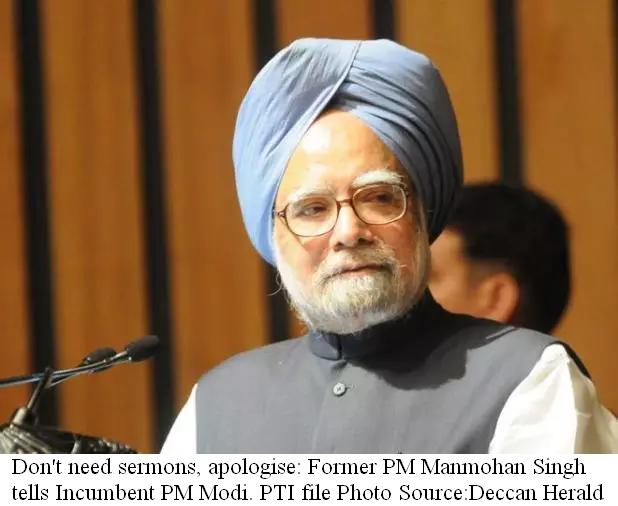 【New Delhi】An unusually combative former prime minister Manmohan Singh hit out at his successor Narendra Modi telling him that the Congress needed "no sermons on nationalism" from a person and party that had made compromises in fight against terrorism.
 In a scathing statement, Singh asked Prime Minister Modi to apologise to the nation for his "ill-thought transgression to restore the dignity of the office he occupies."
Singh rejected outright Modi's allegations as "innuendoes and falsehoods".
"I did not discuss Gujarat elections with anyone else at the dinner hosted by Mani Shankar Aiyar as alleged by Modi.
Nor was the Gujarat issue raised by anyone else present at the dinner," the former prime minister said.
"Fearing imminent defeat in Gujarat, desperation of the prime minister to hurl every abuse and latch on to every straw is palpable.
Sadly & regrettably, Modi is setting a dangerous precedent by his insatiable desire to tarnish every constitutional office, including that of a former prime minister and Army Chief," Singh said in a statement here.
【News source】
Don't need sermons, apologise: Manmohan tells Modi
○One world:
AD-SEAnews
◆Recruitment of Ad-SEAnews Canvassers
Your Comments / Unsubscribe
SEAnews Twitter
SEAnews Messenger
SEAnewsFacebook
SEAnewsGoogle
SEAnews eBookstore
SEAnews eBookstore(GoogleJ)
SEAnews world circulation