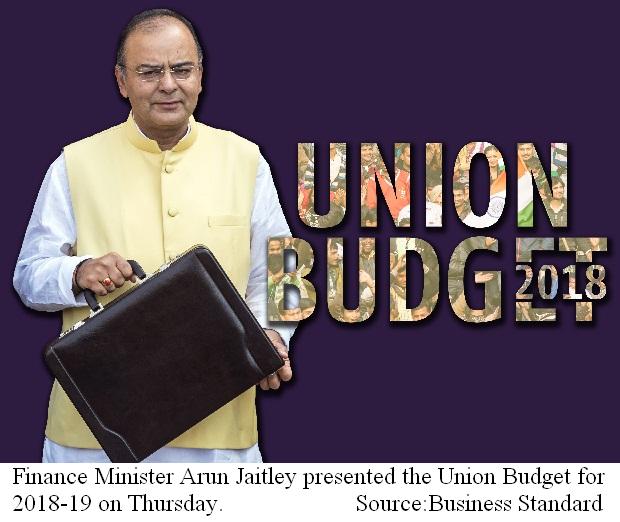 【New Delhi】A slew of measures for the agriculture and rural sectors, a new health insurance scheme for the poor and some relief in income tax for the salaried class and senior citizens, were announced by Finance Minister today (01-02-18) in the last full budget before the general elections
 With a clear eye on the Lok Sabha election, Jaitley pulled out all the stops in the Narendra Modi government's last full Budget to promise a better deal for farmers, boost the rural economy and make the poor less vulnerable to health exigencies. In what could be seen as adopting a middle path – bit of politics as well as economics – the budget had a lot for rural India, providing much needed support to the distressed farm sector. To ensure that the message reaches out to the right audience with general elections next year, the Finance Minister took to Hindi when talking about agriculture/farm sector.
 The current fiscal year, 2017-18, was a year of severe disruptions, including especially the introduction of the goods and services tax or GST, and Jaitley pointed out that he had lost at least a month of indirect tax revenue as a consequence.
○Jaitley adopts a middle path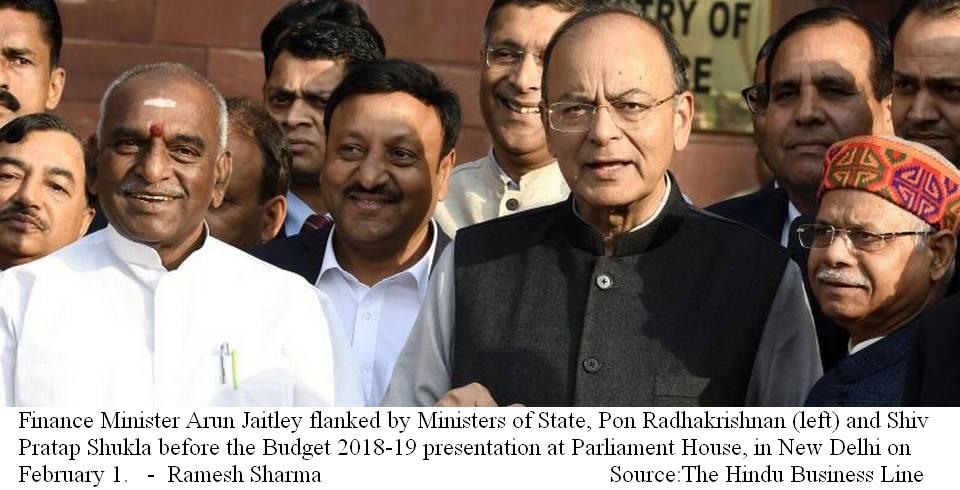 【New Delhi】Finance Minister Arun Jaitley proposed to levie long term capital gains tax on securities. Standard deduction makes a comeback for salaried class and fiscal deficit for 2017-18 exceeds target to 3.5% of GDP
 He lowered the corporate tax for small, micro and medium enterprises with a turnover of up to Rs 250 crore to 25 percent from current 30 percent while reintroducing the tax on long-term capital gains of over Rs 1 lakh made from the sale of shares.
 Jaitley raised the health and education cess, levied on all taxable income, to 4 percent from current 3 percent, and introduced a social welfare surcharge of 10 percent to fund social welfare schemes.
○Modi government plans mega expansion of rural infrastructure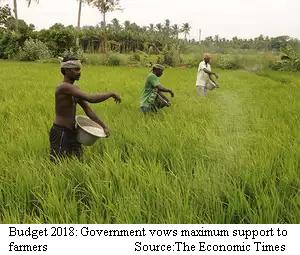 【New Delhi】The Budget has proposed a big expansion of the network of rural roads and agricultural markets, along with concrete steps to help farmers get better prices with the help of a focused strategy on imports and exports as well as participation in the futures market.
 The government aims to spend Rs 14.34 lakh crore for creation of livelihood and infrastructure in rural India, aiming to create employment of 321 crore man-days, build more than 3 lakh km of rural roads, 51 lakh new rural houses, 1.88 crore toilets and provide 1.75 crore new household electric connections, besides boosting agricultural growth.
 The farmers got a huge boost with government now promising to peg minimum support price (MSP) for kharif crops at 1.5 times the cost of produce for such crops. The government has adopted the principle of buying their produce at 1.5 times the input cost in this year's budget proposals that aim to combat rural distress ahead of crucial assembly polls this year and general elections in 2019.
【News source】
Pre-election Budget: Sops for farm sector, seniors, health cover for poor
Farmer 'sutra': Jaitley focuses on rural sector
Budget 2018 is pro-poor, agri-focused
Budget 2018: Government vows maximum support to farmers
Budget 2018: Modi government plans mega expansion of rural infrastructure
○One world:
AD-SEAnews
◆Recruitment of Ad-SEAnews Canvassers
Your Comments / Unsubscribe
SEAnews Twitter
SEAnews Messenger
SEAnewsFacebook
SEAnewsGoogle
SEAnews eBookstore
SEAnews eBookstore(GoogleJ)
SEAnews world circulation