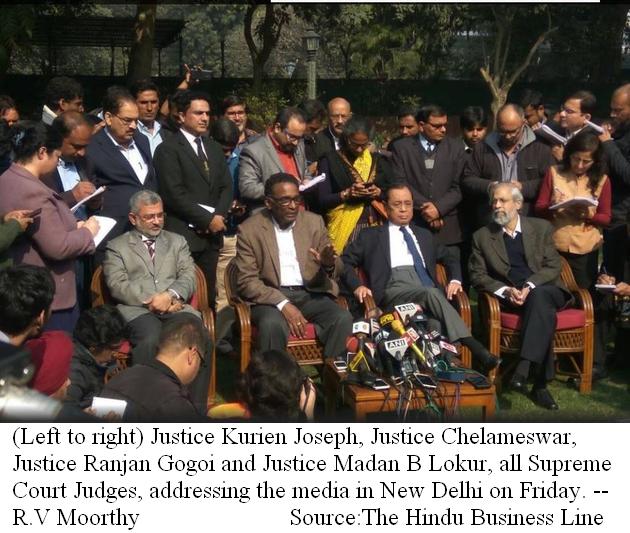 【New Delhi】In an unprecedented development in the history of the Supreme Court, four senior-most judges on the 12th of January came out openly against Chief Justice of India Dipak Misra over the assignment of cases and developments on finalising the Memorandum of Procedure.
 The unprecedented move at a joint news conference by the four judges including Justice J Chelameswar, the second senior judge after the Chief Justice of India, left the judiciary and observers stunned, leaving uncertain how this open dissension in the hallowed institution would be resolved.
○SC judges row has been resolved: Bar Council of India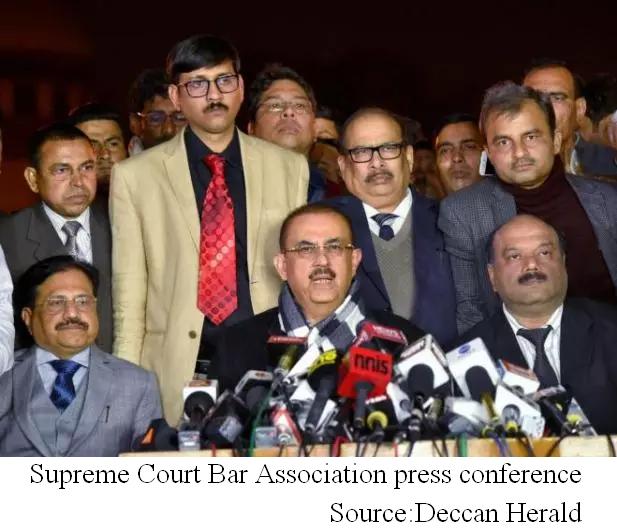 【New Delhi】The Bar Council of India (BCI) today (16-01-18) said the crisis, which had erupted after four top Supreme Court judges came out openly against allocation of cases by Chief Justice of India Dipak Misra, has been resolved internally and the "story is over now".
 BCI Chairman Manan Kumar Mishra, who led a seven-member delegation and held hectic parleys with 15 judges including the CJI yesterday (15-01-18), said the controversial issues flagged by the four revolting judges were "internal issues of the family" which have been resolved internally.
【News source】
Virtual revolt by 4 Supreme Court judges against CJI, say democracy at stake
Supreme Court crisis: All not okay, democracy at stake, say four senior-most judges
Rumble in apex court: 4 judges accuse CJI of breach of norms
SC judges row has been resolved: Bar Council of India
Four senior-most SC judges attend court, BCI says 'story over'
○One world:
AD-SEAnews
◆Recruitment of Ad-SEAnews Canvassers
Your Comments / Unsubscribe
SEAnews Twitter
SEAnews Messenger
SEAnewsFacebook
SEAnewsGoogle
SEAnews eBookstore
SEAnews eBookstore(GoogleJ)
SEAnews world circulation