【Mumbai】In a surprising development, late Judge Brijgopal Harkishan Loya's family said that there was nothing suspicious in his death and they should not be harassed.
 "We are pained by the chain of events. Please do not harass us," said Judge Loya's son Anuj Loya, who was accompanied by other family members at a hurriedly-convened news conference on Sunday evening.
 Anuj, who was flanked by Ameet Naik, founder and Managing Partner of Naik Naik & Co, a law firm, said that they found nothing suspicious about Judge Loya's death.
 Judge Loya (48), who was an additional sessions judge and presided over a CBI court in Mumbai that was hearing the Sohrabuddin Shaikh fake encounter case, in which BJP president Amit Shah was an accused at one point of time and now stands discharged, died in Nagpur in December 2014.
 The Loya family appeared before the media just two days after four top Supreme Court judges raised questions on Chief Justice of India Dipak Misra's certain actions, which they said, had adversely affected the judiciary.
 Hours after Anuj Loya said there was nothing suspicious in his father's death, the ex-CBI judge's uncle contradicted him and expressed anguish. Shrinivas Loya, the 81-year-old paternal uncle of judge Loya, told a magazine that Anuj was "too young" and likely "under pressure", pressing that an inquiry should be conducted into the death of the judge.
○Probe Loya's death: Congress says matter is of public importance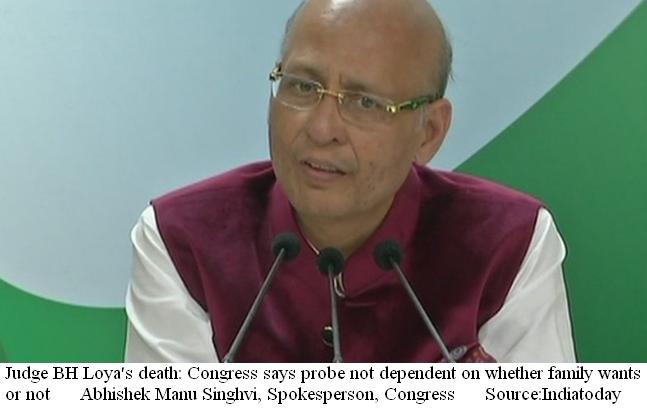 【New Delhi】A day after Anuj Loya, the son of judge B.H. Loya, ruled out foul play in the death of his father, the Congress party said there should be an inquiry to clear all doubts as the matter is of public importance.
 Addressing a Congress briefing, party spokesperson Abhishek Manu Singhvi said there had been five different and conflicting versions from family members in the past three years since the death of Judge Loya and an inquiry was essential to clear all doubts.
 Dr. Singhvi, who is also a senior Supreme Court lawyer, said two sisters of the deceased judge — Anuradha Biyani and Sarita Mandhane — had earlier expressed doubts over his death and even on Sunday (14-01-18) evening, Judge Loya's uncle insisted on an inquiry.
○SC asks Maharashtra govt to give judge Loya's reports to petitioners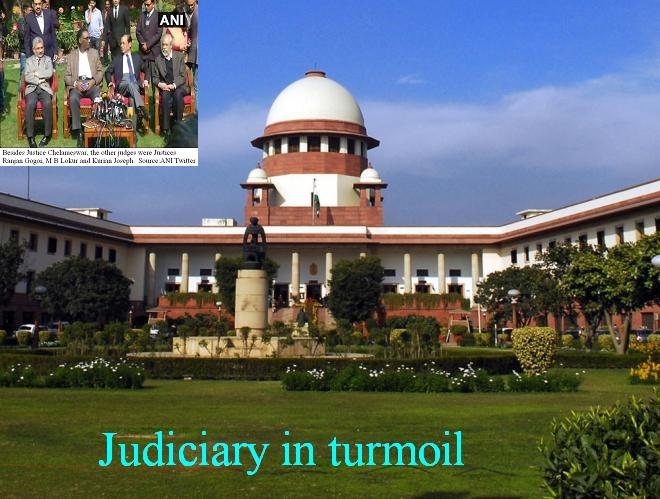 【New Delhi】The Supreme Court on Tuesday (16-01-18) directed the Maharashtra government to provide all documents - pertaining to the death of special CBI judge B H Loya- to two people who sought an independent probe into his demise in 2014.
 A bench of Justices Arun Mishra and Mohan M Shantanagoudar ordered the state counsel to provide a copy of the documents to the counsel of petitioner Tehseen Poonawalla and Maharashtra-based journalist Bandhuraj Sambhaji Lone.
 The Maharashtra government, represented by senior advocate Harish Salve, furnished the documents, also containing the postmortem report, in a sealed envelope.
【News source】
Was suspicious about father's death; no longer so: Loya's son
I have nothing to speak after Anju's statement: Loya's uncle
Probe Loya's death: Congress
Handover documents of Loya's death to petitioners: SC to M'rashtra
○One world:
AD-SEAnews
◆Recruitment of Ad-SEAnews Canvassers
Your Comments / Unsubscribe
SEAnews Twitter
SEAnews Messenger
SEAnewsFacebook
SEAnewsGoogle
SEAnews eBookstore
SEAnews eBookstore(GoogleJ)
SEAnews world circulation