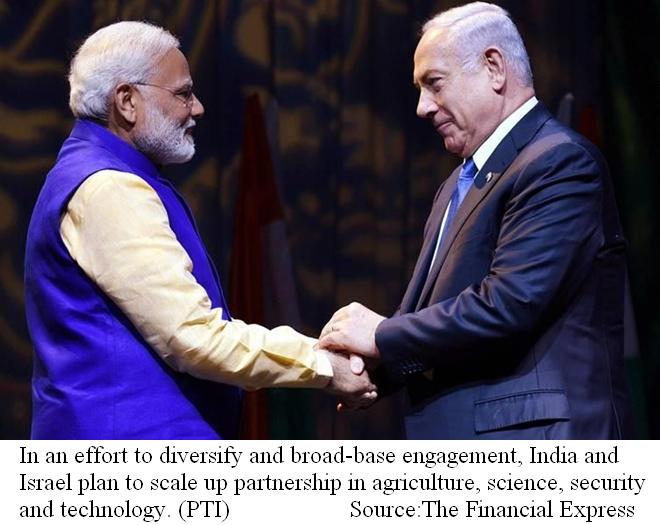 【New Delhi】India and Israel on Monday (15-01-18) inked nine pacts to step up bilateral cooperation in diverse areas, including investment, cyber security, science and technology and hydrocarbon sector.
 To increase trade and investment, the possibility of restarting negotiations on the India-Israel FTA was discussed too.
 Prime Minister Narendra Modi and Israeli counterpart Benjamin Netanyahu held formal talks at Hyderabad House in New Delhi before witnessing exchange of the agreements by the officials of the two governments.
 In a joint address to the media with Israeli counterpart Benjamin Netanyahu following delegation-level talks in New Delhi, Prime Minister Narendra Modi said, "We will strengthen the existing pillars of cooperation in areas that touch the lives of our people." Modi also called upon the defence companies of Israel to make more in India taking advantage of the liberalized Foreign Direct Investment regime.
○Israelis sing a Bollywood tune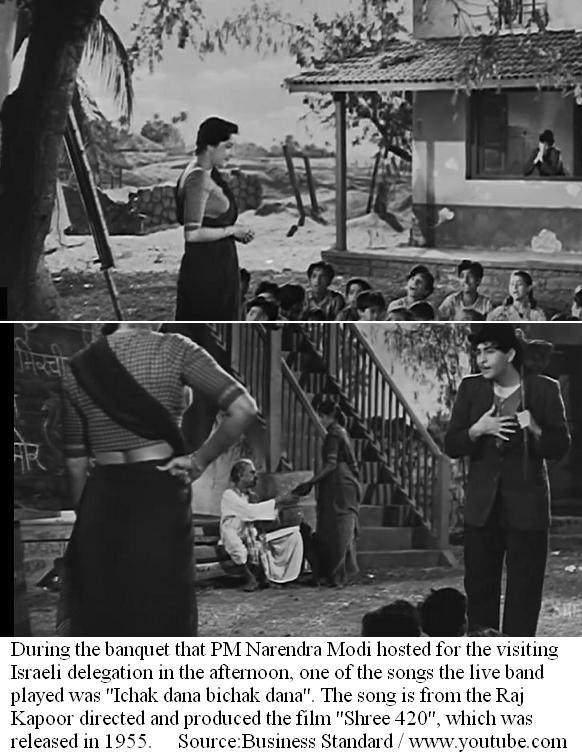 【New Delhi】Many were intrigued that among the nine agreements India and Israel signed on Monday(15-01-18), during the visit of Israeli Prime Minister Benjamin Netanyahu, there was one on co-production of films.
 During their joint media interaction, Netanyahu said his wife and he were excited about visiting "Bollywood" while in India. Ministry of External Affairs officials said the agreement was "exploratory" in nature to look at the joint production of films.
 Foreign Secretary Vijay Gokhale added, during the banquet that PM Narendra Modi hosted for the visiting Israeli delegation in the afternoon, one of the songs the live band played was
"Ichak dana bichak dana (Here a grain, there a grain, grain on top of grain, here a grain)"
. He said the number of Israelis who knew that song was "amazing", and that they said it was quite popular in Israel. The song is from the Raj Kapoor directed and produced the film "Shree 420", which was released in 1955.
○Modi-Netanyahu bonhomie: Israeli PM ready to do yoga with 'friend Narendra'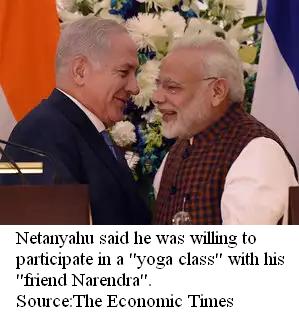 【New Delhi】The bonhomie between Prime Minister Narendra Modi and his "good friend" Benjamin Netanyahu was on full display today when the leaders hugged and shook hands a number of times during their joint press event.
 The chemistry between the two leaders is well known. Netanyahu said, "My friend Narendra...any time you want to do yoga a class with me...it is a big stretch but I will be there. Trust me," Netanyahu remarked, reflecting the deep camaraderie the two leaders share.
【News source】
India, Israel sign 9 agreements, may restart FTA talks
India, Israel sign nine agreements
Netanyahu in India: Technology to drive economic ties with Israel
'Will make things easier for Israeli cos to do biz in India'
PM promises more reforms, invites Israeli business to invest
Tech Mahindra partners Israel's ContextSpace for cybersecurity
India, Israel to enhance agriculture, S&T, security cooperation
Modi and Netanyahu discuss technological intervention in farms to revolutionize Indian agriculture
Make more in India, Modi tells Israeli defence companies
Israelis sing a Bollywood tune: PM Modi gives warm welcome to Netanyahu
Mera Joota Hai Japani - Raj Kapoor - Nargis - Shree 420 - Evergreen Bollywood Hits {HD} - Mukesh
Modi-Netanyahu bonhomie: Israeli PM ready to do yoga with 'friend Narendra'
○One world:
AD-SEAnews
◆Recruitment of Ad-SEAnews Canvassers
Your Comments / Unsubscribe
SEAnews Twitter
SEAnews Messenger
SEAnewsFacebook
SEAnewsGoogle
SEAnews eBookstore
SEAnews eBookstore(GoogleJ)
SEAnews world circulation