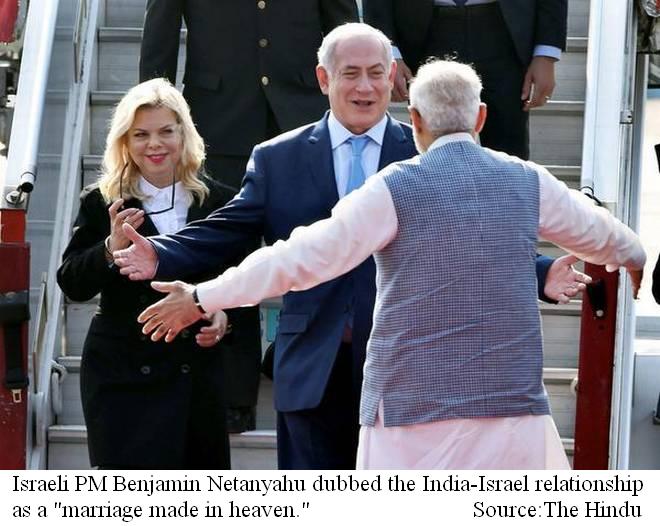 【New Delhi】Israeli Prime Minister Benjamin Netanyahu said on Sunday (14-01-18) said, "The partnership between India and Israel is a marriage made in heaven but consecrated on earth."
 Dubbing the India-Israel relationship as a "marriage made in heaven", Netanyahu said that even though Israel was "disappointed" by India's vote at the UN against the Jerusalem issue, one negative vote will not affect the ties.
 India's recent vote at the United Nations General Assembly, opposing U.S. recognition of Jerusalem as the Israeli capital, did not dent ties as bilateral ties are "much larger" than one issue, the External Affairs Ministry said on Monday (15-01-18).
 Speaking to presspersons, Vijay Gokhale, Secretary in charge of Economic Relations in the Ministry, said that both sides viewed ties "holistically" even as they sought an early resumption of peace talks between Israel and Palestinians. "Our side expressed our position on both the status of Jerusalem and Palestine. Both sides agreed that our relationship is much larger and our relationship is not determined by this [vote]," Mr. Gokhale said.
○Modi and Netanyahu reaffirmed positive personal chemistry between them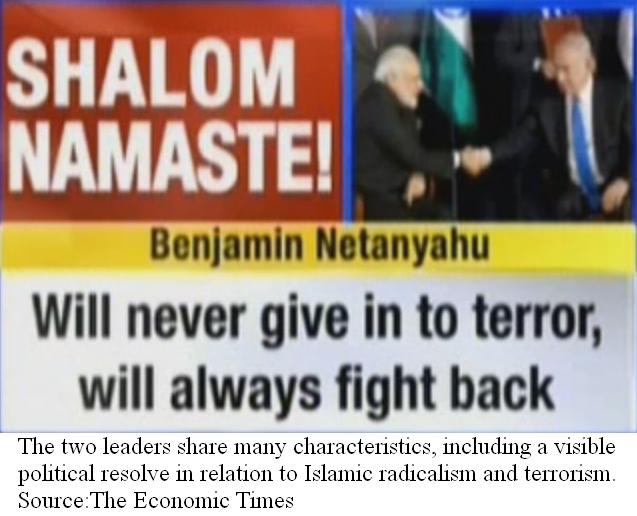 【New Delhi】According to Mr. C. Uday Bhaskar, Director, Society for Policy Studies, New Delhi, the bilateral relationship between India and Israel has had a chequered past since the post-World War II birth of both countries but is poised for a pragmatic future trajectory based on shared interests.
 The Netanyahu visit reciprocates that of Prime Minister Narendra Modi in July 2017, the first by an Indian Prime Minister to Israel. The Modi-Netanyahu personal chemistry was on display during that visit which was reciprocated as Modi personally received the Israeli leader at the airport when he arrived Sunday afternoon. The two leaders share many characteristics, including a visible political resolve in relation to Islamic radicalism and terrorism.
○Delhi's war memorial renamed for Netanyahu's visit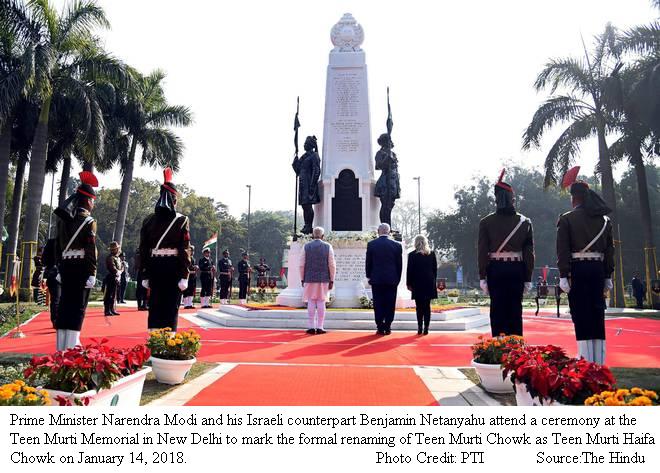 【New Delhi】Teen Murti Chowk, a war memorial, in central Delhi was formally rechristened as Teen Murti Haifa Chowk in a ceremony attended by Indian Prime Minister Narendra Modi and Israeli Prime Minister Benjamin Netanyahu on January 14.
 The two leaders laid a wreath and signed the visitors' book at the memorial. The three bronze statues at Teen Murti represent the Hyderabad, Jodhpur and Mysore Lancers who were part of the 15 Imperial Service Cavalry Brigade.
 The brigade carried out the victorious assault on the fortified city of Haifa on September 23, 1918, during World War I. Forty four Indian soldiers died during the liberation of the city. Till date, the 61 Cavalry celebrates September 23 as its Raising Day or "Haifa Day".
【News source】
One UN vote can't change our relations: Netanyahu
India says Israel has taken UN vote in its stride
Israel raises Palestine issue with India
India and Israel: Personal chemistry shores up strategic ties
Delhi's Teen Murti Chowk renamed Teen Murti Haifa Chowk for Benjamin Netanyahu's visit
○One world:
AD-SEAnews
◆Recruitment of Ad-SEAnews Canvassers
Your Comments / Unsubscribe
SEAnews Twitter
SEAnews Messenger
SEAnewsFacebook
SEAnewsGoogle
SEAnews eBookstore
SEAnews eBookstore(GoogleJ)
SEAnews world circulation