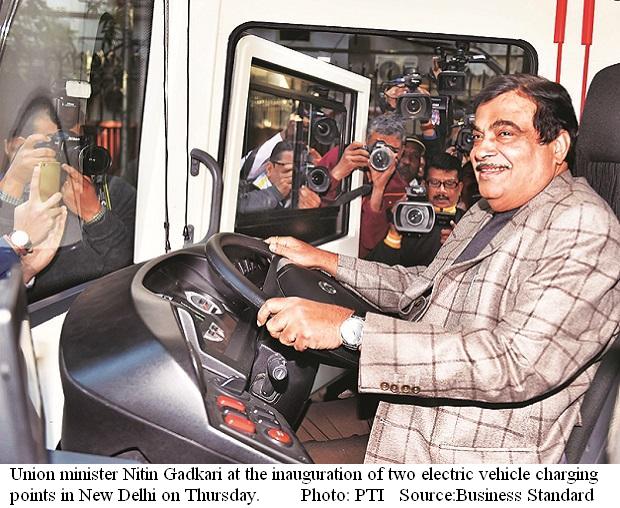 【New Delhi】In a U-turn on its ambitious electric vehicle (EV) policy, Union Transport Minister Nitin Gadkari on February 15 said an action plan had been put in place for the proposal, which would encourage manufacturing and use of EVs.
 "There is no need for an EV policy. An action plan has been prepared. Each ministry has started implementing the action plan," NITI Aayog Chief Executive Officer Amitabh Kant said, while addressing the media after Gadkari inaugurated two electric charging stations on the NITI Aayog's premises.
 The government was planning an EV policy with the aim of 100 per cent electric mobility by 2030.
However, the automobile industry has in the past few months raised concerns over the execution of such a plan.
 In an interview to Business Standard earlier this month, Gadkari had said, "We want electric, ethanol, biodiesel, and methanol buses to ply in the country.
It will help address the problem of air pollution affecting major cities.
We want to adopt the Transport for London (TfL) model.
Nine operators in London and the corporation bring out a tender on the basis of a per kilometre charge."
○Draft auto policy: Green mobility hits top gear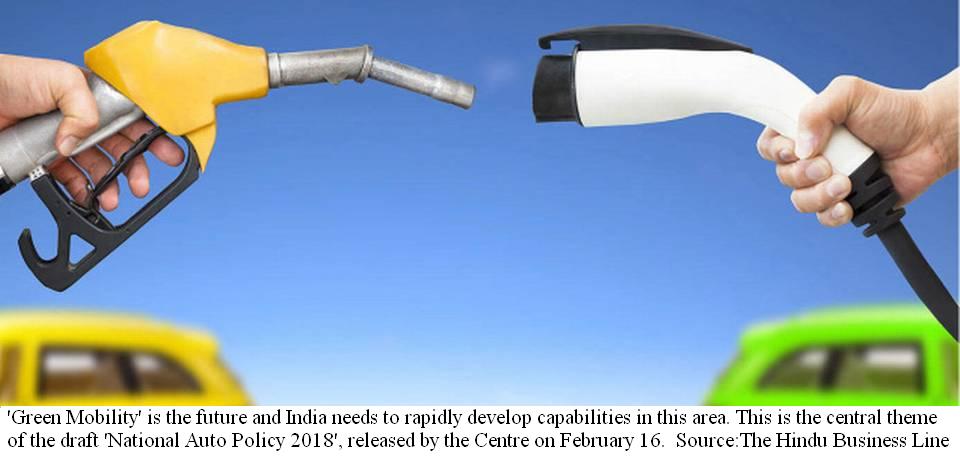 【New Delhi】'Green Mobility' is the future and India needs to rapidly develop capabilities in this area. This is the central theme of the draft 'National Auto Policy 2018', released by the Centre on February 16.
 "Green mobility will be the future of the global automotive industry.
India needs to rapidly develop capabilities, scale and increase consumer adoption to meet the nation's environmental targets and leverage the global opportunities created because of this technology shift," the draft said.
 The draft policy's key recommendations include strengthening the roll-out of FAME, or Faster Adoption and Manufacturing of Hybrid & Electric Vehicles, and fast-tracking the implementation of the scheme and aligning it with the overall EV vision for the country. The draft proposes continuation of incentives for public transport, but not for private vehicles.
 "Continue incentives for public transport and restrict subsidies for private vehicles. Introduce technical classification criteria for subsidies based on fuel consumption improvement, battery-energy density, all-electric range, etc," ïs the policy recommendation of the Department of Heavy Industry, Ministry of Heavy Industries & Public Enterprises.
 According to The Economic Times, the government is mulling lower duty and other concessions, including cheaper loans, for cars that are compact and have reduced carbon emissions — pegged at 155gm per km this year and eventually going down to 110 by 2028.
○Auto component makers gearing up for likely disruption from EV mobility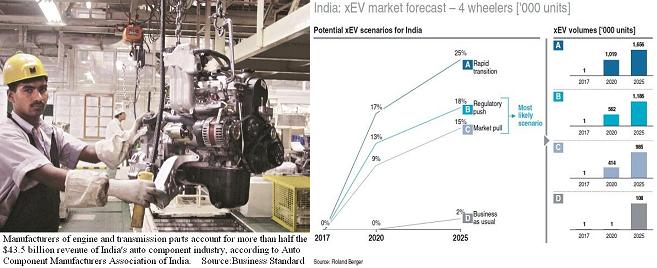 【Mumbai】Over the past two years, the din around India's ambitious plan to convert itself into an all-electric vehicle market by 2030 has been growing louder. Manufacturers of engine and transmission parts, who would be at the centre of the disruption, aren't worried, however.
 These companies account for more than half the $43.5 billion revenue of India's auto component industry, according to Auto Component Manufacturers Association of India (Acma), the lobby for auto parts makers.
Even as these companies are looking to diversify into non-engine parts, scouting for acquisitions to stay relevant in the newly emerging eco-system, they are confident that internal combustion engine (ICE) is here to stay at least for a decade and half, if not more. To be sure, meeting the BS-VI emission norms, which kick off on April 1, 2020, is on top of their priority list.
 The government's announcement on electric mobility has served as a huge distraction for an industry that has left no stone unturned to switch to world's strictest emission norms, says Vinnie Mehta, director general at ACMA. Automobile and auto parts makers, and oil refiners are estimated to fork out anything between Rs 700 billion and Rs 900 billion as a run up to leapfrogging from BS-IV to BS-VI emission norms.
【News source】
Govt takes U-turn on policy for EVs; Nitin Gadkari says action plan enough
Draft auto policy: Green mobility hits top gear
Lower duty, sops for green, compact cars?
Auto component makers gearing up for likely disruption from EV mobility
○One world:
AD-SEAnews
◆Recruitment of Ad-SEAnews Canvassers
Your Comments / Unsubscribe
SEAnews Twitter
SEAnews Messenger
SEAnewsFacebook
SEAnewsGoogle
SEAnews eBookstore
SEAnews eBookstore(GoogleJ)
SEAnews world circulation