【New Delhi】The Indian economy, which saw temporary disruptions caused by demonetisation and the roll-out of the goods and services tax (GST) over the past two years, will see consolidation in the current fiscal, finance minister Arun Jaitley said on April 8.
 In a message to the Confederation of Indian Industry (CII) annual session, Jaitley said reforms such as GST, Insolvency and Bankruptcy Code and new income tax regulations are contributing to a better investment climate.
"An aspirational India, an impatient India, has accepted the idea of reforms," the minister said in the message.
Jaitley, who was supposed to address the event, couldn't attend due to health issues.
○Modi may lose Varanasi in 2019: Rahul, Mind your own seat, BJP tells Rahul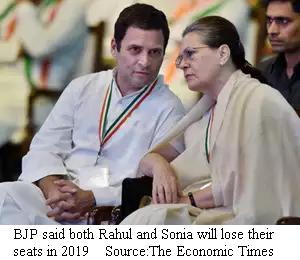 【Bengaluru/New Delhi】Forget the BJP winning the 2019 elections, even Prime Minister Narendra Modi might lose his Varanasi seat under a united opposition, asserted Congress president Rahul Gandhi on April 8.
BJP has hit back at Rahul Gandhi that he should be more worried about losing his own seat.
 Pegging his confidence on opposition unity, Mr. Gandhi said far from the BJP winning the 2019 Lok Sabha elections, even Mr. Modi might lose from Varanasi if his party, the SP and the BSP were united against him.
Exuding confidence over roping in and managing alliance partners despite their varied personal and regional aspirations, Mr. Gandhi predicted for the current ruling dispensation, a "collapse" not "seen in many years."
 BJP spokesperson Anil Baluni said on Sunday evening, "In the kind of circumstances prevailing today, both Rahul and his mother, Sonia Gandhi, will lose from their seats, Amethi and Raebareli, respectively. They have done nothing in their constituencies and the people's disappointment with them is growing."
【News source】
Arun Jaitley's message: Economy to consolidate in FY2019
Under united Opposition, even Modi may lose Varanasi in 2019: Rahul
Mind your own seat, BJP tells Rahul Gandhi; trashes his claim Modi will lose
○One world:
AD-SEAnews
◆Recruitment of Ad-SEAnews Canvassers
Your Comments / Unsubscribe
SEAnews Twitter
SEAnews Messenger
SEAnewsFacebook
SEAnewsGoogle
SEAnews eBookstore
SEAnews eBookstore(GoogleJ)
SEAnews world circulation