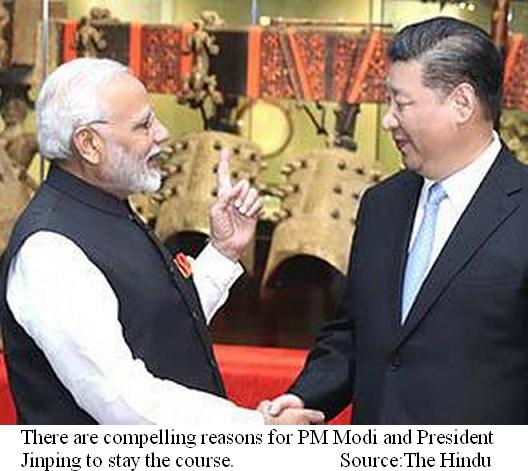 【BeiJing】Missed opportunities and false starts have been the hallmarks of the India-China story. In the 1950s, the "brotherly friendship" between the two countries led by strong leaders — Prime Minister Jawaharlal Nehru and Chairman of the Communist Party of China Mao Zedong — promised to redefine Asia. Dreamers even entertained the idea of India and China piloting a post-colonial Renaissance in the developing world. But the trust-shattering 1962 war annulled all such hopes.
 The overhang of the border row has marred a full-scale rapprochement between the two countries ever since. Chinese President Xi Jinping's ambitious visit in 2014 was sullied by the military face-off in Chumar in Ladakh. Prime Minister Narendra Modi's journey to China in 2015 was trailed two years later by a near-war situation in Doklam.
 But the late-April meeting of the two leaders in Wuhan may yield a more bountiful harvest, notwithstanding the fact that U.S. President Donald Trump has crashed into the India-China equation. Geo-economics is weighing in heavily in shaping the course of New Delhi-Beijing ties. China worries that the so-called trade war that is brewing with the Trump administration is the beginning of Washington's long campaign to impede China's rise. The Chinese have made no bones about the urgency of seeking India's backing to counter these headwinds blowing across the Pacific.
 China perhaps views India as part of a larger pan-Asian riposte to Mr. Trump's America First doctrine. Beijing is also re-engaging with Japan, South Korea and ASEAN to make Asia the pivot of a new wave of globalisation. After the Wuhan summit, Chinese Prime Minister Li Keqiang visited Tokyo for a trilateral summit. Japan, South Korea, and China batted for Regional Comprehensive Economic Partnership, a free trade bloc which not only covers the three countries but also knits the ASEAN with other major economies of the region including India, Australia and New Zealand.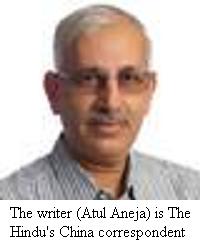 There are other compulsions — domestic as well as international — that may drive Mr. Xi to keep alive the spirit of Wuhan. At the Chinese Communist Party's 19th Congress, Mr. Xi aired his "new era" doctrine of a "community with shared future for mankind". If a large country such as India is on board, it would be a big advertisement for Mr. Xi's blueprint for a post-American international order, anchored in Eurasia. In Mr. Modi, Mr. Xi is likely to find a willing partner to seal big dreams.
 The writer (Atul Aneja) is The Hindu's China correspondent
○Look to India for returns, not China's Belt-and-Road, funds say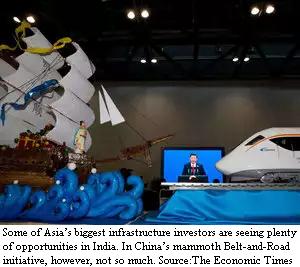 【Sydney】Some of Asia's biggest infrastructure investors are seeing plenty of opportunities in India. In China's mammoth Belt-and-Road initiative, however, not so much. They said so at the Bloomberg Invest Australia summit in Sydney on 16 May.
 India is a key market for Macquarie Group thanks to strong economic growth and state asset sales, said Frank Kwok, co-head of Asia Pacific at Macquarie Infrastructure & Real Assets. China's Belt-and-Road, however is more driven by geopolitics than investment returns, he said at the summit.
 President Xi's vision, first proposed in 2013 and now enshrined in the Communist Party's constitution, involves spending as much as $1.2 trillion on railways, roads, ports and power grids over the next decade, according to Morgan Stanley. The intent is to open new business opportunities for domestic companies and extend China's reach -- even though the route cuts through multiple conflict zones and some of the world's most corrupt countries.
 Still, India poses its own challenges, said Cyril Cabanes, head of Asia Pacific infrastructure transactions at Caisse de Depot et Placement du Quebec, Canada's second-biggest pension-fund manager.
He says the opportunity is clear, but the deals are slow to come.
【News source】
Wuhan's promise
Look to India for returns, not China's Belt-and-Road, funds say
○One world:
The aim of SEAnews
◆Recruitment of Ad-SEAnews Canvassers
Your Comments / Unsubscribe
SEAnews Twitter
SEAnews Messenger
SEAnewsFacebook
SEAnewsGoogle
SEAnews eBookstore
SEAnews eBookstore(GoogleJ)
SEAnews world circulation