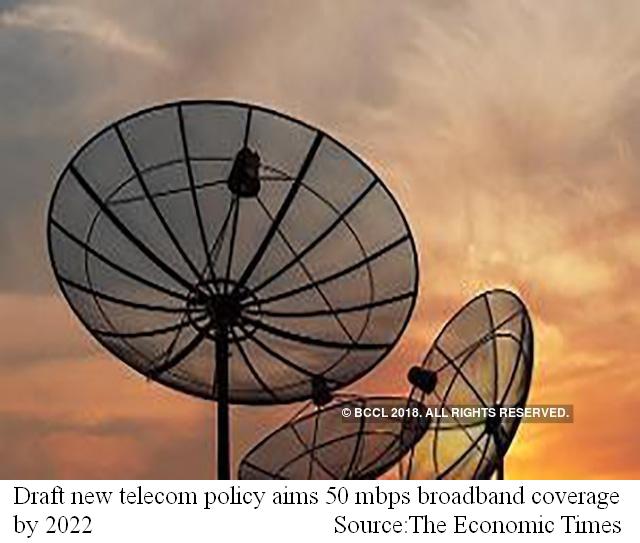 【New Delhi】The government on May 1 released draft of new telecom policy - National Digital Communications Policy 2018 and unveiled the broad contours of the next telecom policy which will aim to attract investments worth $100 billion by 2020 in the digital communications sector, create four million additional jobs, provide access of broadband with 50 megabit per second to every citizen and enhance the sector's contribution to 8% of India's GDP from about 6% in 2017, while adhering to the principles of net neutrality.
 According to a 22-page document issued by the Department of Telecommunications (DoT), under the The National Digital Communications Policy, 2018, the government plans to optimally price spectrum, review levies such as license fees and spectrum usage charges as well as M&A rules to ease exits while also taking a fresh look at spectrum sharing, leasing and trading guidelines, as part of its approach that spectrum is a key natural resource which is to be used for public benefit.
○Auto sales: New fiscal begins on strong note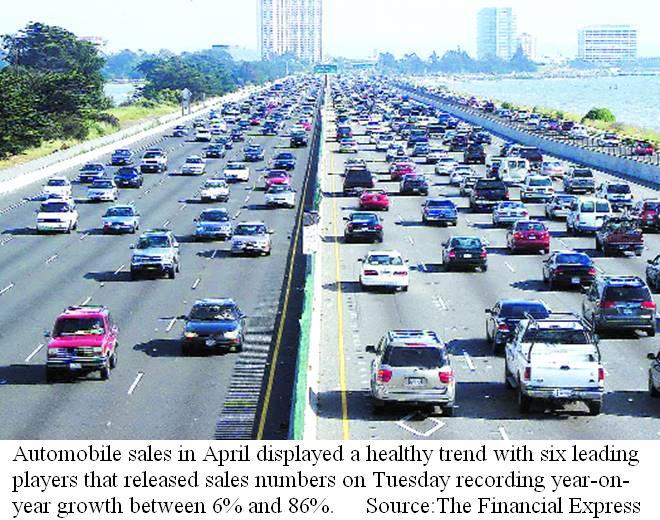 【New Delhi/Mumbai】India's automobile companies started the new financial year on a strong note, with companies posting robust sales in April and predicting continuation of the trend. However, some industry executives said increasing fuel prices could pose challenges to growth.
 Automobile sales in April displayed a healthy trend with six leading players recording year-on-year growth between 6% and 86%.
 The country's largest passenger carmaker Maruti Suzuki India reported a 14.2 per cent surge in domestic sales at 164,978 units. Total April sales rose 14.4 per cent to 172,986 units.
 Hyundai Motor India (HMIL) sold a total (domestic+exports) of 59,744 units in April 2018 as against 56,368 units in the same month last year, displaying only a moderate growth of 6%.
 Tata Motors sold 17,235 passenger vehicles in April 2018 as against 12,827 units in the same month last year.
 In the utility vehicles (UVs) segment, Mahindra & Mahindra (M&M) staged a comeback with a pick-up in growth to 11%, backed by strong performance in rural and urban markets. The company sold 20,371 units in April 2018 as against 18,363 units in April 2017.
【News source】
Draft new telecom policy aims 50 mbps broadband coverage by 2022
DoT unveils broad contours of next telecom policy, seeks $100 bln investments by 2020
Auto sales: New fiscal begins on strong note
Auto industry begins new fiscal year with robust sales numbers in April
Strong April sales growth may put auto stocks in the fast lane
○One world:
The aim of SEAnews
◆Recruitment of Ad-SEAnews Canvassers
Your Comments / Unsubscribe
SEAnews Twitter
SEAnews Messenger
SEAnewsFacebook
SEAnewsGoogle
SEAnews eBookstore
SEAnews eBookstore(GoogleJ)
SEAnews world circulation