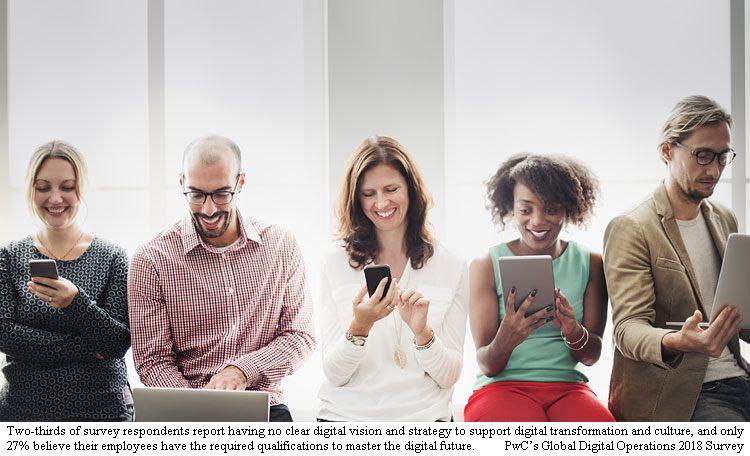 【New Delhi】As digitisation, automation and advances in artificial intelligence disrupt work, some 375 million workers — or roughly 14 per cent of the global workforce — may switch job roles by 2030, forecasts a McKinsey Global Institute report, Jobs Lost, Jobs Gained: Workforce Transitions in a Time of Automation.
 As PwC's Global Digital Operations 2018 Survey illustrates, while Industry 3.0 involved the automation of single machines and processes, Industry 4.0 encompasses end-to-end digitisation and data integration of the value chain.
 The World Economic Forum (WEF) recently launched the IT Industry Skills Initiative to meet the global skills gap challenge and address job displacement arising from automation and the Fourth Industrial Revolution. The initiative is committed to reaching one million people with resources and training opportunities on the WEF-sponsored SkillSET portal by January 2021. The initiative has partners such as Accenture, CA Technologies, Cisco, Cognizant, Hewlett Packard Enterprise (HPE), Infosys, Pegasystems, PwC, Salesforce, SAP and TCS.
 The US Bureau of Labor Statistics expects 1.4 million jobs to be disrupted between now and 2026, of which the majority — 57 per cent — belong to women.
○India's 40 lakh IT workforce needs to reboot to survive or get the boot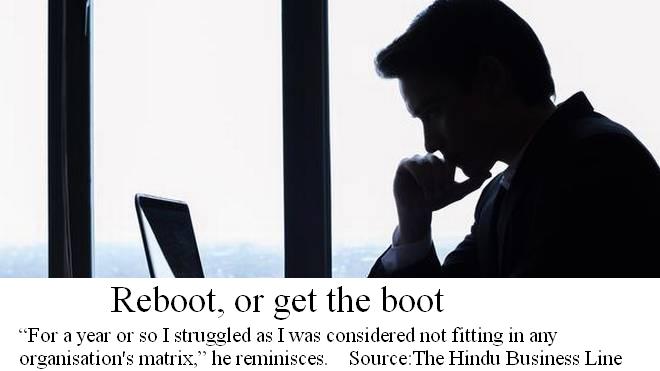 【New Delhi】India's 40 lakh IT workforce needs to quickly master AI, machine learning and blockchain, among other technologies, to survive. How is it faring? ....... Venkatesh Ganesh and KV Kurmanath report
 Sudhir Chatterjee, the 38-year-old IT employee from Siliguri, West Bengal, picks up his pet sport to explain a crucial moment in his career, and life.
 After graduating in computer science from Karnataka's RV College of Engineering, Chatterjee got himself a job at HCL Tech in 2006. "It was the height of the outsourcing boom and I started out as a tester, managing the IT applications of a multi-billion dollar US bank," he says. As the years went by, he managed large teams, changed jobs, grew in the ranks and was even able to afford a villa in the outskirts of Bengaluru. Then came the knockout punch: Chatterjee was deemed to be a non-performer and told to quit.
 Initially, he felt that with his dozen-odd years of experience he would land a job anywhere. But then reality hit. "For a year or so I struggled as I was considered not fitting in any organisation's matrix," he reminisces. Initially resistant to the idea of reskilling, Chatterjee took the plunge; it was a make-or-break situation. He enrolled in a Jetking training centre around Easter 2017 to learn Agile and DevOps (software development and operations). "It was like resurrection," he beams.
 By March this year, he got a job in a leading European outsourcing company in Bengaluru and, despite taking a 40 per cent pay cut, is glad that his career is back on track. He is working on a project involving DevOps.
○Future of Jobs in India: Only 30 % will remain relevant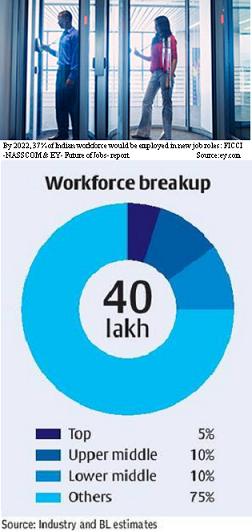 【New Delhi】According to the 'Future of Jobs in India' report by the Federation of Indian Chambers of Commerce and Industry(FICCI), the National Association of Software and Service Companies (Nasscom) and Ernst & Young Global Limited (EY), 60-65 per cent of the 40 lakh Indian workforce in the IT-BPM sector alone would be deployed in jobs that have radically changed skill-sets. To put the scale of the transformation in perspective, this is followed by 55-60 per cent in BFSI and 50-55 per cent in automobiles.
 IT is at the epicentre of the disruption since its uses radiate across sectors. IT services companies employ engineers trained in traditional IT services whereas the market requirements are moving towards digital projects which require different skill-sets, including analytics, artificial intelligence, data science, blockchain, Internet of Things and mobile technologies, among others. An increasing number of businesses, globally, have completely computerised manual parts of their processes. The industry has hence uniformly echoed the narrative of reskilling. "Ongoing reductions of headcount in outsourced businesses (due to automation) will eventually result in a scenario where (only) 30 per cent of the workforce will remain relevant," says DD Mishra, Research Director at Gartner.
【News source】
Ready for Industry 4.0?
Global Digital Operations 2018 Survey
Reboot,or get the boot
By 2022, 37% of Indian workforce would be employed in new job roles: FICCI-NASSCOM & EY- Future of Jobs- report
○One world:
The aim of SEAnews
◆Recruitment of Ad-SEAnews Canvassers
Your Comments / Unsubscribe
SEAnews Twitter
SEAnews Messenger
SEAnewsFacebook
SEAnewsGoogle
SEAnews eBookstore
SEAnews eBookstore(GoogleJ)
SEAnews world circulation