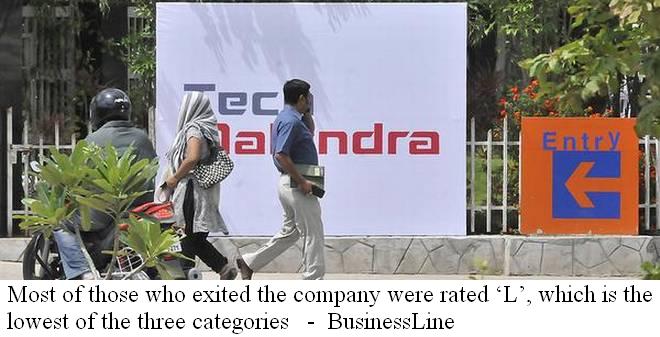 【Bengaluru】The country's fifth-largest IT services company Tech Mahindra is learnt to have let go of about 1,500 employees for reasons ranging from poor performance to technology shifts.
 Multiple employees BusinessLine spoke to said that most of the exits have happened in the P1 Band, which is in the project manager and above levels. Most of those who exited the company were rated 'L', which is the lowest of the three categories. These employees were given two months severance pay with about 70 per cent of it being at the time of the resignation and the rest during the final settlement.
 A spokesperson for Tech Mahindra said the company has added 1,700 associates in the ongoing quarter. "Our endeavour is to build a digital workforce of the future. We will continue to focus on re-skilling and right skilling our employees to keep pace with the changing technologies and dynamic market needs. As a policy-driven company, we adhere to global standards and processes pertaining to our human resource," the spokesperson said. She said the company is deeply concerned with attempts at speculation and misrepresentation of facts in the media relating to their employees. "Tech Mahindra has zero tolerance policy on such matters, we are cognizant of our responsibilities and pledge to continue to create awareness among the masses regarding such falsehoods."
○Infy goes high-tech to map learning ability of employees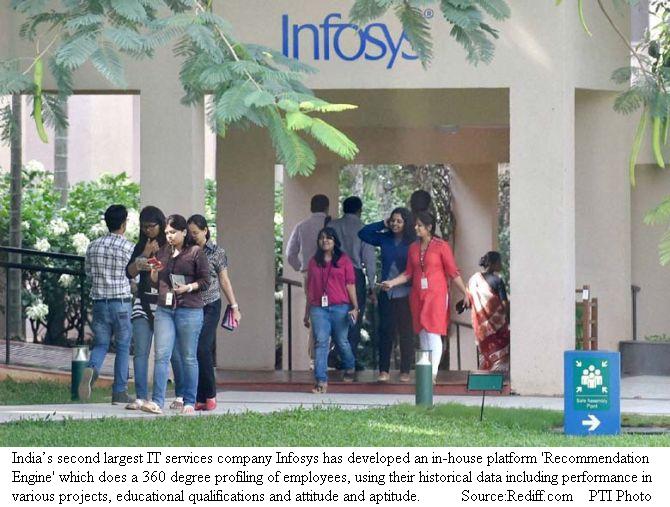 【Bengaluru】India's second largest IT services company Infosys is using technologies such as machine learning, big data and analytics as well as artificial intelligence to map the learning abilities of its employees.
With this, the infotech giant will suggest training programmes that best suit its staff.
 The Bengaluru-based company has developed an in-house platform - Recommendation Engine - which does a 360 degree profiling of employees, using their historical data, including performance in various projects, educational qualifications, attitude and aptitude. After this assessment, the engine recommends the skillsets each employee needs to possess and suggests the areas of improvement.
 Other than the Recommendation Engine, which the company has been using for the last few month, Infosys has also rolled out 'Lex', a new-age learning app which can be accessed anytime and from anywhere, integrating various new technologies to gauge an individual's learning requirements.
 With a massive shift in the global technology space and focus of clients shifting to digital and new age technologies, Indian and global technology services companies are emphasising on training and reskilling of employees. Apart from Infosys, most other large and midsized IT services firms have either developed in-house training programmes or are taking the help of third-party platforms to impart training on new technologies to their workforce.
【News source】
Most TechM exits 'above project manager level'
Infy goes high-tech to map learning ability of employees
Infosys taps new technologies to map learning ability of employees
○One world:
AD-SEAnews
◆Recruitment of Ad-SEAnews Canvassers
Your Comments / Unsubscribe
SEAnews Twitter
SEAnews Messenger
SEAnewsFacebook
SEAnewsGoogle
SEAnews eBookstore
SEAnews eBookstore(GoogleJ)
SEAnews world circulation