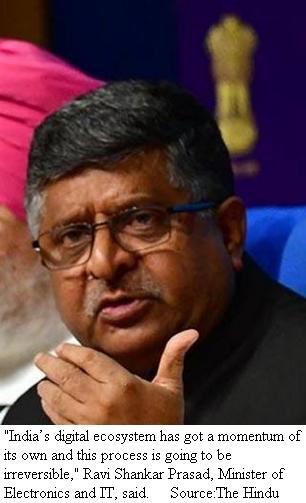 【New Delhi】The Centre will set up the country's biggest data centre in Bhopal, Madhya Pradesh with a capacity to host 500,000 virtual servers, Electronics and IT Minister Ravi Shankar Prasad said on June 18.
 To be set up by National Informatics Centre (NIC), under the Ministry of Electronics and Information Technology (MeitY), the country's fifth national data centre will take about two years to come up and will have the highest capacity so far in any centre in India. NIC had recently opened one of the biggest data centres in Bhubaneswar, second after the Delhi centre. The two others are in Hyderabad and Pune. The government has spent Rs 200 crore to set up the Bhubaneswar centre.
 Meanwhile, Prasad said the 'Rural BPO (business process outsourcing)' scheme will be expanded to one-lakh seats from current 48,000 seats, across India. The initiative with an outlay of Rs 493 crore was set up, and there are 91 BPOs in small towns and rural areas and the scheme is expected to create employments opportunities for around 1.45 lakh people in these areas.
 Speaking about Multipurpose National Identity Cards 'Aadhaar,' Prasad said the world's largest biometric identification programme has already established its usefulness and benefit for over 121-crore unique ID number holders. While only 61 crore Aadhaar had been generated up to 2014, the number jumped to over 121 crore as on June 16, 2018, he said, adding that as many as 59.15 crore have linked 87.79 crore bank accounts with the Aadhaar.
○Get a loan within 24 hrs! Amazon India launches lending network for sellers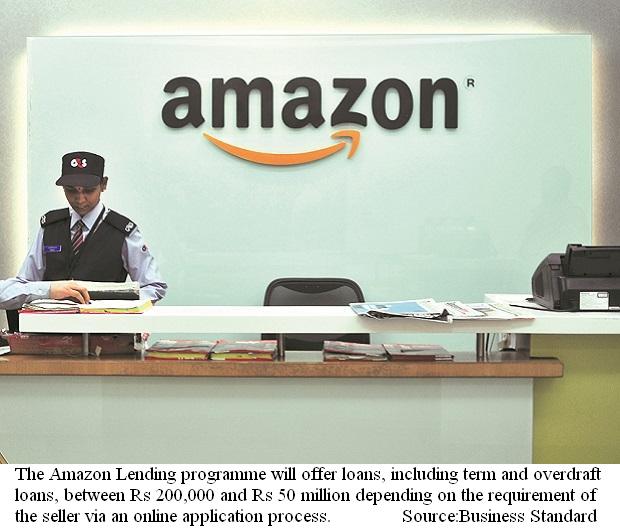 【Bengaluru】In another India-first initiative, Amazon has launched a lending network connecting lenders and its sellers, who will be able to avail loans at competitive rates in as swiftly as 24 hours.
 The Amazon Lending programme will offer loans, including term and overdraft loans, between Rs 200,000 and Rs 50 million depending on the requirement of the seller via an online application process. The e-commerce giant has brought on board six lenders, including Aditya Birla Finance, Bank of Baroda, Capital First, Capital Float, Flexiloans and YES Bank, to provide a wide range of loans to the sellers to expand their businesses online.
 While the Amazon lending programme had started in 2016, the loan was offered only from a single lender. However, with multiple lenders now on board, the interest rates get competitive for sellers who can pick and collaborate with a lender according to their needs. Since 2016, the company has seen a 4.5 times growth in the amount of loans that have been availed.
 Locked in an intense battle with homegrown e-commerce major Flipkart, Amazon has come up with several Indian-first initiatives, such as Chai Kart, Amazon Tatkal, Seller Flex and global selling programme, to expand the network of its sellers, which has grown from 100 in 2013 to over 340,000 today. The company had earlier started a Chai Kart initiative informing sellers about the benefits of starting an online business and helping them understand the entire process over a cup of tea.
【News source】
Govt plans 'largest' data centre in Bhopal
Govt. to set up fifth national data centre
India's largest national data centre to come up in Bhopal
Get a loan within 24 hrs! Amazon India launches lending network for sellers
○One world:
The aim of SEAnews
◆Recruitment of Ad-SEAnews Canvassers
Your Comments / Unsubscribe
SEAnews Twitter
SEAnews Messenger
SEAnewsFacebook
SEAnewsGoogle
SEAnews eBookstore
SEAnews eBookstore(GoogleJ)
SEAnews world circulation