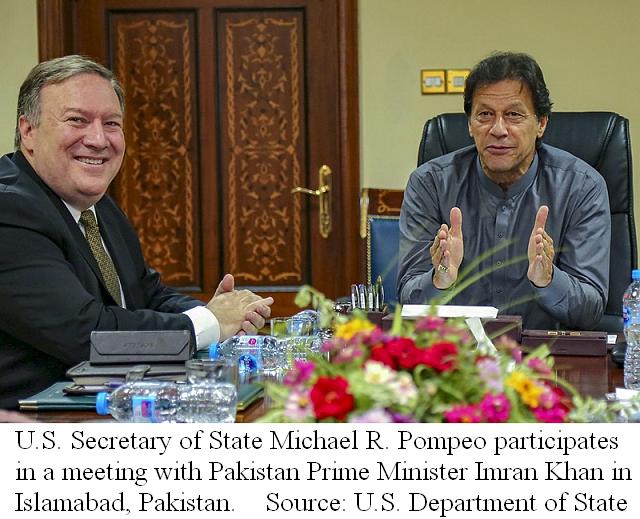 【Washington/Islamabad】US Secretary of State Mike Pompeo met Pakistan's Prime Minister Imran Khan in Islamabad on Wednesday, September 5, in the first high-level US visit to the new government, looking to "reset" relations strained over the war in Afghanistan.
 Speaking to reporters on his plane Tuesday, Pompeo said he wanted to visit at the beginning of the former cricket star's tenure "in an effort to reset the relationship between the two countries." "We have worked closely with the Pakistanis in my role as CIA Director, our teams have been working together for a long time," said Pompeo, who formerly served as chief of the U.S. spy agency. "There are a lot of challenges between our two nations for sure, but we're hopeful that with the new leadership … we can find common ground and we can begin to work on some of our shared problems together," he said. "I hope we can turn the page and begin to make progress, but there are real expectations. We need Pakistan to seriously engage to help us get to the reconciliation we need in Afghanistan," Pompeo said.
 Tensions between the uneasy allies were raised ahead of Wednesday's visit when the Pentagon said it has taken final steps to cancel US$300 million in military aid to Pakistan, in addition to $500 million already canceled.
 After greeting Khan in the capital Islamabad, Pompeo said he was "very pleased" with his earlier meeting with Pakistani Foreign Minister Shah Mehmood Qureshi.
 "I am hopeful about resetting relations. I'm a born optimist. A sportsman always is an optimist. He steps on the field and he thinks he's going to win," Khan told reporters.
 Pompeo is next due to visit India, Pakistan's neighbour and bitter foe, where he is expected to pile pressure on New Delhi over its purchases of Iranian oil and Russian missile systems in talks with senior Indian officials.
○Solution of Kashmir dispute lies in implementation of UNSC resolutions': Maleeha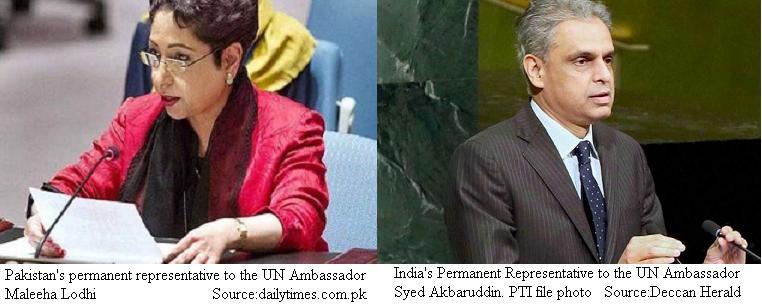 【New York】In a council debate on 'Mediation and the Settlement of Disputes' on August 29, Pakistan's permanent representative to the UN Ambassador Maleeha Lodhi pushed for the implementation of United Nations Security Council resolution, which provide the exercise of right of self-determination to the Kashmiri people, for a peaceful settlement of the dispute.
 She said through its various resolutions, the Security Council has provided that the final disposition of the State of Jammu and Kashmir will be made in accordance with the will of the people "expressed through the democratic method of a free and impartial plebiscite" conducted under the auspices of the United Nations. She said the Security Council also instituted several mechanisms including the UN Commission on India and Pakistan (UNCIP), the deployment of the UN Military Observer Group in India and Pakistan (UNMOGIP) and the appointment of UN representatives. "Sadly, these resolutions remain unimplemented to date. The international community cannot succeed in its efforts to strengthen conflict prevention and promote pacific dispute settlement if the Security Council's own resolutions are held in abeyance, by some. "What is, at stake is both the Council's credibility as well as the objective of durable peace in our region. We must not fail these tests," she said.
 However, aforementioned her speech drew a sharp reaction from India's Permanent Representative to the UN Ambassador Syed Akbaruddin who said Pakistan is "regurgitating a failed approach, which has long been rejected, is neither reflective of pacific intent nor a display of pacific content.
○India's big message to Imran Khan-led PTI government in Pakistan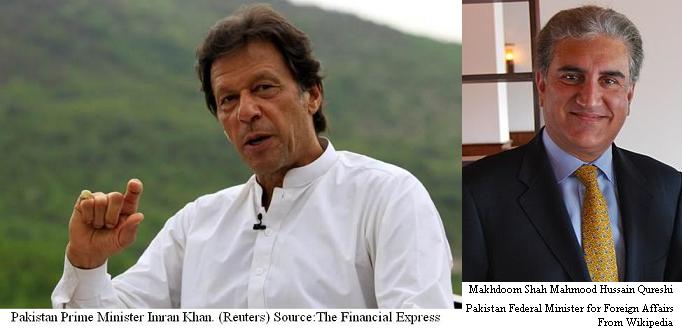 【New York】India on August 30 voiced its hope that the new government in Pakistan under the leadership of Prime Minister Imran Khan "will work to build South Asian region terror-free" rather than indulging in polemics.
 Speaking at UN Security Council, India's Permanent Representative to the UN, Syed Akbaruddin said, "We hope the new government of Pakistan will, rather than indulging in polemics, work constructively to build a safe, stable, secure and developed the South Asian region, free of terror and violence."
 On August 20, Pakistan's newly-appointed Foreign Affairs Minister Shah Mehmood Qureshi had claimed that Indian Prime Minister Narendra Modi wrote a letter to Prime Minister Imran Khan indicating the beginning of a dialogue between the two nations but later Pakistan denied making any such claim and blamed Indian media for misquoting Qureshi. Denying Qureshi's claim, sources in India had also emphasised that there was no fresh proposal for the resumption of dialogue between the two countries.
【News source】
On trip to Pakistan, Mike Pompeo seeks 'reset' in strained ties
US Secretary of State Mike Pompeo meets new Pakistan PM Imran Khan, seeks to reset ties
Solution of Kashmir dispute lies in implementation of UNSC resolutions': Maleeha
Pak regurgitating failed approach on Kashmir: India
India's big message to Imran Khan-led PTI government in Pakistan; read here
○One world:
AD-SEAnews
◆Recruitment of Ad-SEAnews Canvassers
Your Comments / Unsubscribe
SEAnews Twitter
SEAnews Messenger
SEAnewsFacebook
SEAnewsGoogle
SEAnews eBookstore
SEAnews eBookstore(GoogleJ)
SEAnews world circulation