【Mumbai】Vijay Shekhar Sharma's Paytm got Warren Buffett, the Oracle of Omaha, to invest in his firm, a rare deal for a man who typically avoids internet firms. For India's man of the moment, it is major milestone. Here is a story of Sharma who has brought up in the small town called Harduaganj near Aligarh, Uttar Pradesh.
 Many feel Berkshire Hathaway Inc's Paytm investment is a different kind of a bet. "This is not a bet on cash flows but on growth. Money transfer is a critical network business and as India grows, Paytm will grow faster than the market," said Anand Lunia, managing partner at venture capital firm India Quotient.
 Berkshire is familiar with this model as it is a shareholder in payment companies like American Express, Mastercard, and Visa besides banks like Wells Fargo, Bank of America and Goldman Sachs.
○eMudhra plans U.S. digital certifying foray in 2019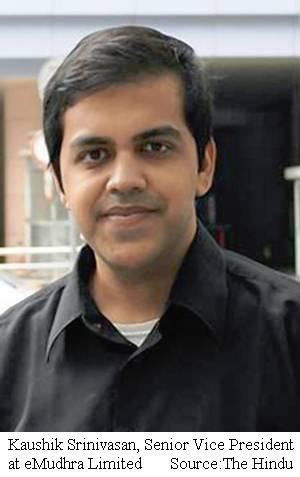 【Bengaluru】eMudhra, a licensed Indian certifying authority that issues digital signature certificates, expects revenue to grow 30% from last year's Rs 78 crore and plans to enter the U.S. market next year, Kaushik Srinivasan, senior vice-president, strategy, and innovation, said.
 "We have already set up a strong market presence in select markets in APAC, Middle East, and Africa," Mr. Srinivasan said in an e-mail interview. "Next year, we plan to enter the U.S. market. "We have around 400 large enterprises who are our customers across sectors including 42 banks, several eGovernment departments, private sector enterprises in manufacturing and healthcare. We have issued 40 million certificates," he added.
 Digital transaction management is poised to grow globally into a $30-billion market by 2020, according to Aragon Research, a U.S.-based research and advisory firm.
【News source】
From Aligarh to Omaha, the incredible story of Vijay Shekhar Sharma
eMudhra plans U.S. digital certifying foray in 2019
○One world:
The aim of SEAnews
◆Recruitment of Ad-SEAnews Canvassers
Your Comments / Unsubscribe
SEAnews Twitter
SEAnews Messenger
SEAnewsFacebook
SEAnewsGoogle
SEAnews eBookstore
SEAnews eBookstore(GoogleJ)
SEAnews world circulation