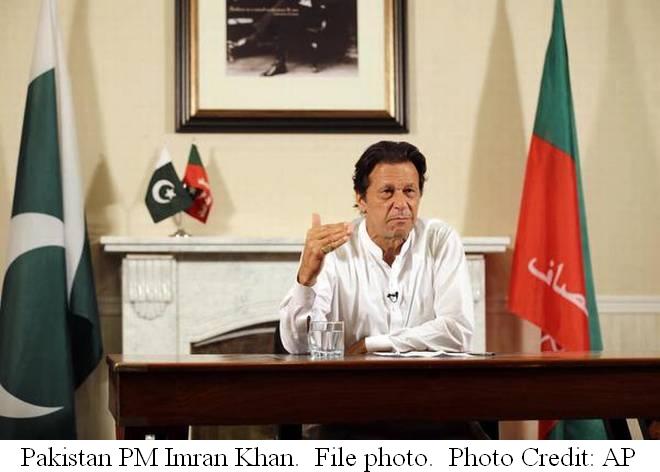 【New Delhi】Pakistan Prime Minister Imran Khan on September 22 expressed his disappointment with the Indian government's decision to cancel proposed talks between the two foreign ministers, terming it an "arrogant & negative response by India to my call for resumption of the peace dialogue."
 "All my life I have come across small men occupying big offices who do not have the vision to see the larger picture," Mr. Khan tweeted, in a clear sign of frustration over his offer for talks having been spurned.
 The Ministry of External Affairs (MEA) didn't immediately respond to Mr. Khan's outburst. On Friday, the MEA spokesman had said the killing of policemen in Jammu and Kashmir had revealed "the real face" of Mr. Khan and of Pakistan's "evil agenda". The MEA cited that as the reason for the cancellation of the proposed talks between External Affairs Minister Sushma Swaraj and Pakistan's Foreign Minister Shah Mehmood Qureshi. The MEA's statement had also referred to stamps issued by the Pakistan postal service that glorified Kashmiri terrorists including Hizbul Mujahideen commander Burhan Wani.
 On the other hand, Mr. Qureshi on Saturday charged India with having "trampled on diplomatic norms" by cancelling the meeting between foreign ministers that it had agreed to just a day prior. Speaking to journalists in Islamabad, Mr. Qureshi said the issue of stamps by the Pakistan postal service allegedly glorifying Kashmiri terrorists was used as an excuse by India to cancel the talks. "They used the issue of stamps as an excuse, which had been issued before this [PM Imran Khan's] government came to power. To use something that happened in July to justify their actions in September is inappropriate," Mr. Qureshi added, before leaving for New York.
 Mr. Qureshi and Ms. Swaraj are now likely to be preparing for a face-off at the United Nations next week, where they are expected to be present at the same venue on a number of occasions.
○Militants barged into the homes of three special police officers in Shopian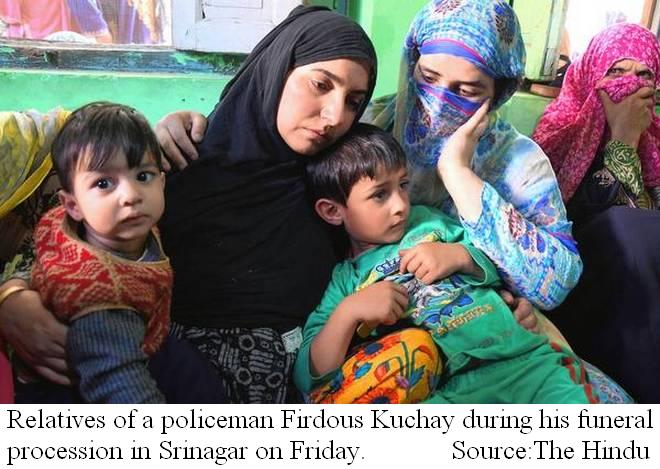 【Srinagar】When suspected militants barged into the homes of three special police officers in Shopian in south Kashmir early on Friday morning, the unarmed men were caught unawares — one was having a bath, another had just returned from offering morning prayers and the third was waiting for his mother to give him rotis for breakfast.
 "I was making rotis when a number of gunmen barged in, looking for my son, who was inside the bedroom. He was waiting for me to cook breakfast," one of the victims, Kulwant Singh's mother, Pushpa Devi recalled. Kulwant's wife and father Dhoop Singh were away in Jammu when the incident took place. The SPO leaves behind a daughter and a son. "They [gunmen] promised to release him soon. Why did they kill? What was his sin," Ms. Pushpa Devi asked.
 Nisar Ahmad Dhobi, also a father of two from Kapren in Shopian, had just finished his morning prayers when the militants entered his house. "As soon as he returned to his bedroom, the gunmen barged in. They asked him to accompany him. They swore by their guns to release him soon. They said he would quit the police force on camera and return home," said Dhobi's nephew, who last saw him at the gates of his house when the militants warned him not to step out.
 The gunmen came knocking at the bathroom for policeman Firdous Kuchay, son of Abdul Gani, also from Batagund.
○It's time for next surgical strike: Rawat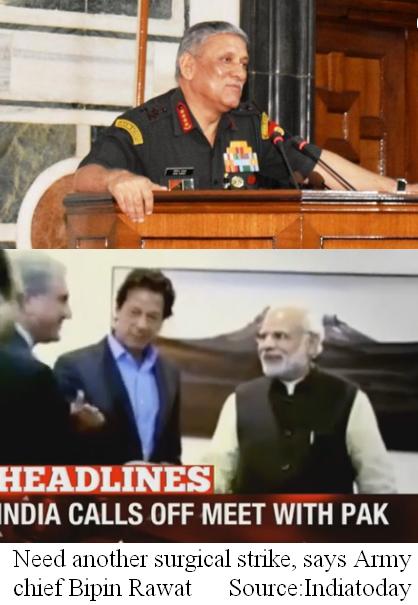 border="0">
【New Delhi】Army chief Gen. Bipin Rawat on September 24 said it was time for another surgical strike on terror launch pads.
 In response to a question, Gen. Rawat said: "I believe there is a need for one more action (surgical strike). But I would not want to disclose how we want to do it," he said in an interview to India Today TV.
 The Army conducted surgical strikes along the LoC on Sept. 29 two years ago. On Sunday, Gen. Rawat had backed the government's decision to call off dialogue with Pakistan, asserting that talks and terror cannot go together.
【News source】
Cancellation of Indo-Pak talks: Small men in big offices, says Imran Khan
Morning shock in Shopian
Need another surgical strike, says Army chief Bipin Rawat
It's time for next surgical strike: Rawat
○One world:
AD-SEAnews
◆Recruitment of Ad-SEAnews Canvassers
Your Comments / Unsubscribe
SEAnews Twitter
SEAnews Messenger
SEAnewsFacebook
SEAnewsGoogle
SEAnews eBookstore
SEAnews eBookstore(GoogleJ)
SEAnews world circulation