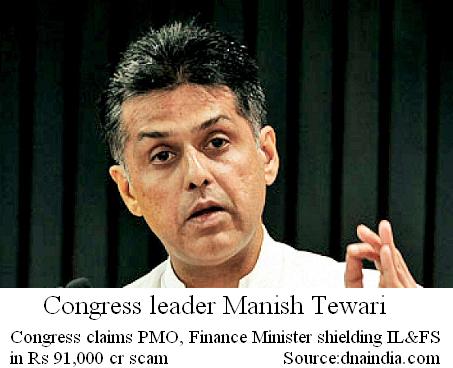 【New Delhi】 The Congress on September 26 demanded a Supreme Court-monitored multiple-agencies' probe into all matters related to the debt-laden firm Infrastructure Leasing and Financial Services (IL&FS).
 The party said the probe should include aspects as to why none of the representatives of the Life Insurance Corporation of India, the State Bank of India, the Central Bank of India and other state-owned stake holders, who are in the board of directors of the IL&FS, never forewarned the authorities of the huge loss the company was making.
 Pointing out that LIC, SBI and Central Bank of India among others have 40% equity in IL&FS, which owes a Rs 91, 000 crore loan, Congress spokesperson Manish Tewari has warned that a collapse of IL&FS could trigger in India "a Lehman Brothers collapse-like implications".
 "The manner in which the IL&FS mopped up a Rs 91,000-crore from our banks is a Vijay Mallya + Nirav Modi + Mehul Choksi X 7 scam, making this the grandfather of all scams under the Modi government," said Tewari.
 Questioning why the NDA government," particularly the Prime Minister's Office and the Finance Ministry, is putting pressure on the LIC, SBI, Central Bank of India and NHAI to put more money to bail out IL&FS", Tewari alleged that the Modi government was doing it only to protect the foreign investors in the crisis-torn company. "The other day, the PM talked about an international alliance. This is exactly the kind of international alliance the BJP-led NDA government is working on ," he said.
【News source】
Congress seeks Supreme Court led probe into IL&FS
Congress claims PMO, Finance Minister shielding IL&FS in Rs 91,000 cr scam
Wrong to apply bank NPA rules to IL&FS, says RBI director Gurumurthy
Debt-laden IL&FS plans to sell 25 assets to raise Rs 300 billion
IL&FS arm defaults on CPs
IL&FS row should not be a contagion, depends on how it is handled: Experts
The IL&FS crisis highlights regulatory failure in the financial sector
IL&FS approaches NCLT against bankruptcy case, draws revival plan
Lakshmi Vilas Bank says exposure to IL&FS group is standard
○One world:
The aim of SEAnews
◆Recruitment of Ad-SEAnews Canvassers
Your Comments / Unsubscribe
SEAnews Twitter
SEAnews Messenger
SEAnewsFacebook
SEAnewsGoogle
SEAnews eBookstore
SEAnews eBookstore(GoogleJ)
SEAnews world circulation