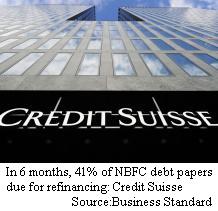 【Mumbai】Mutual funds' (MFs') exposure to non-banking financial companies (NBFCs), through short-term commercial papers (CPs), has risen three times since 2016.
 And around 41 per cent (median) of these papers are due for refinancing in the current fiscal year, said Credit Suisse in a report. Given the high exposure and the current uncertainty, MFs may be unwilling to fully refinance the exposure, added the report. The brokerage noted that the share of non-banking sources of funds for NBFCs has grown to 74 per cent, as of March 2018, as interest rates in the market was at multi-year lows.
○NBFC woes hit stocks of rate-sensitive sectors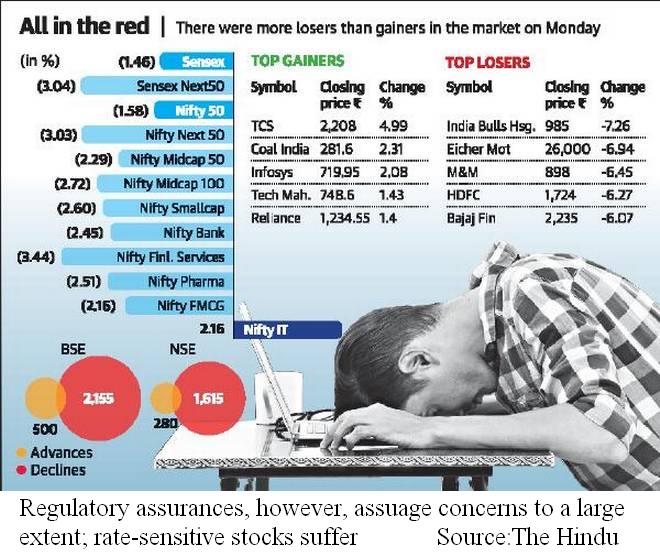 【Mumbai】The ongoing concerns related to liquidity woes at non-banking financial companies (NBFCs) affected the broader market sentiment on Monday (Sep. 24) even as both the benchmark indices lost around 1.50% each with the Nifty closing below the psychological 11,000-mark.
 Interest rate-sensitive sectors such as banking, realty and automobiles bore the maximum brunt with some of the sectoral indices losing in the range of 3-5% each. According to market participants, the concerted efforts by the Reserve Bank of India (RBI) and the Securities and Exchange Board of India (SEBI) over the week-end and the statement by Finance Minister on Monday helped assuage the concerns to a large extent. "The Government will take all measures to ensure that adequate liquidity is maintained/provided to the NBFCs, the Mutual funds and the SMEs," tweeted Arun Jaitley before the markets opened for trading. On Sunday, the RBI and the SEBI jointly said that they are closely monitoring the developments in the financial markets and are ready to act, if required.
 "It is a volatile scenario with yields hardening, currency depreciating and liquidity tightening," said Nilesh Shah, managing director, Kotak Mutual Fund. "NBFCs were growing rapidly and if their ability to refinance gets impacted, then growth will ultimately be impacted. The recent events have impacted investor sentiment though the pre-emptive action [by government and regulators] has sent the message loud and clear that the situation is being watched," added Mr. Shah.
【News source】
In 6 months, 41% of NBFC debt papers due for refinancing: Credit Suisse
Fears set off by IL&FS still roil markets
○One world:
AD-SEAnews
◆Recruitment of Ad-SEAnews Canvassers
Your Comments / Unsubscribe
SEAnews Twitter
SEAnews Messenger
SEAnewsFacebook
SEAnewsGoogle
SEAnews eBookstore
SEAnews eBookstore(GoogleJ)
SEAnews world circulation