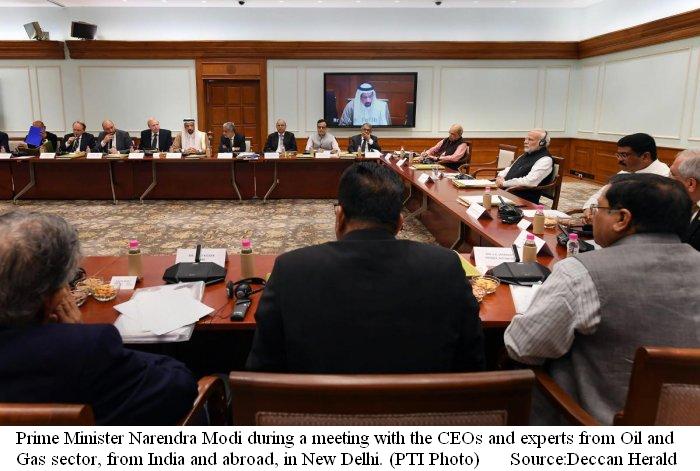 【New Delhi】Prime Minister Narendra Modi on October 15 warned oil producers like Saudi Arabia that high crude prices are hurting the global economy and sought a review of payment terms to provide a temporary relief to the local currency.
 With Saudi Arabia Oil Minister Khalid A Al-Falih and a UAE minister listening, Modi at his third annual brainstorming with the chief executives of top global and Indian oil and gas companies underscored how crude oil prices at a four-year high were hurting global growth.
 India, the world's third-biggest oil consumer, has been over the past two months battered by high crude oil prices that have sent retail petrol, diesel and LPG rates to record high, posed inflationary risks and together with a sliding rupee threatened to upset its current account deficit. Also, unrelenting fuel price rise since mid-August has negated cut in taxes and subsidy.
 "Lastly and importantly, he requested for review of payment terms so as to provide temporary relief to the local currency," the statement said without giving details.
○Saudi Arabia, UAE reiterate investment plans in India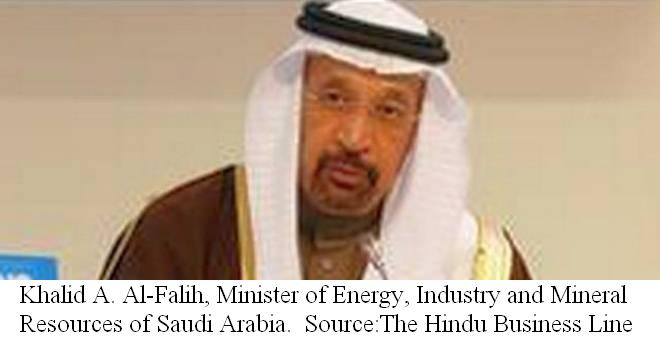 【New Delhi】Saudi Arabia and UAE on October 15 reiterated that the West Asian countries were looking to participate in India's petroleum downstream segment, including petrochemicals, refinery and retail. In addition, Saudi Arabia is also looking to make investments in the fertiliser sector.
 Saudi Arabia committed to meeting India's rising oil demand and said it is keen to invest in fuel retailing and petrochemical business in the world's fastest-growing energy consumer.
 Speaking at the India Energy Forum by CERAWeek, Khalid A. Al-Falih, Minister of Energy, Industry and Mineral Resources of Saudi Arabia said, "Oil prices would have been back to triple digits if Saudi Arabia hadn't taken steps to balance the oil market." Falih also said that claims that the oil will soon be phased out as the dominant source of energy for transport are misguided.
 On the other hand, BP Chief Executive Officer, Bob Dudley pointed out, "The central government of India's move to direct oil marketing companies to lower auto fuel price hampers the confidence of oil companies in investments make in India."
○India's oil imports surge to $10.91 bn in September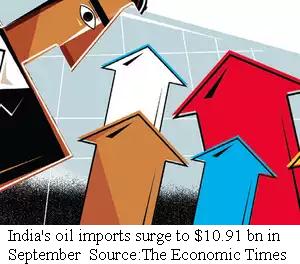 【Mumbai】India's crude oil imports in September touched $10.91 billion, up 33.6 percent from a year ago, Indian government data showed on October 15.
 Shipments of gold to India, the world's second-biggest buyer of bullion, rose 51.5 percent last month, the data from India's trade ministry showed. India last week announced tariff hikes on several electronic items and communication devices, in a bid to rein in imports and bolster a weak rupee, but did not levy additional duties on gold to prevent increased smuggling of the precious metal.
【News source】
High oil prices hurting global economic growth: Modi
Big boost to petroleum and fertilizer sector: Saudi Arabia, UAE reiterate investment plans in India
Saudi Arabia commits to meeting India's oil demand
Saudi Energy Minister issues veiled warning on oil price spike, but assures India of supplies
Fuel price control lowers confidence of investments in India, say BP chief
India's oil imports surge to $10.91 bn in September
○One world:
AD-SEAnews
◆Recruitment of Ad-SEAnews Canvassers
Your Comments / Unsubscribe
SEAnews Twitter
SEAnews Messenger
SEAnewsFacebook
SEAnewsGoogle
SEAnews eBookstore
SEAnews eBookstore(GoogleJ)
SEAnews world circulation