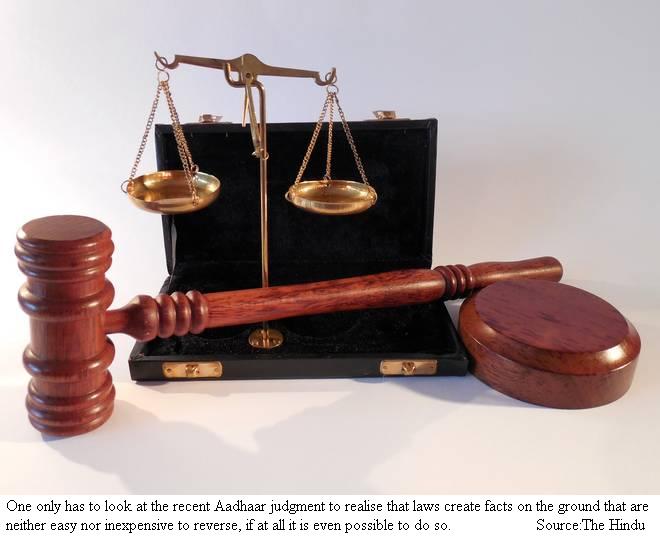 【New Delhi】Legislation and policies in the country are often passed with inadequate scrutiny and assessment. Increasingly, the 'rush towards law' results in policies and legal frameworks that are mostly reactive and seek to offer quick-fix solutions to complex problems. As a result, both law-makers and citizens are frequently blindsided by the unanticipated impact of these moves and the laws often run aground on issues of implementation. Ultimately, the time and effort it takes to undo and resolve the issues caused by such hasty law-making can compound the problem that the law was intended to resolve, making the entire exercise of 'fixing' the issue futile.
 One only has to look at the recent Aadhaar judgment to realise that laws create facts on the ground that are neither easy nor inexpensive to reverse, if at all it is even possible to do so. (Aadhaar means 'Foundation' or 'Base' in English and is used as Multipurpose National Identity Card using the Unique Identification Authority of India platform.) This gives rise to a question: what is the function of law in a society? There are good reasons to believe that at a minimum, legislation seeks to create a framework that helps coordinate certain governance processes or to resolve certain identified problems. It also articulates a standard of morality and an ethical approach that a society and government deems appropriate.
○Aadhaar Judgment: Supreme Court has done well to place restrictions on the unique identifier

【New Delhi】The Supreme Court on September 26 ruled that the Aadhaar Act, 2016, was constitutionally valid. The five-judge bench led by Chief Justice of India Dipak Misra said the scheme gave dignity to the marginalised and served a much larger public interest.
 In a 4:1 verdict, the CJI and Justices A K Sikri, A M Khanwilkar and Ashok Bhushan were in favour of Aadhaar while D Y Chandrachud dissented.
 In a landmark judgment, the Supreme Court has upheld the constitutional validity of Aadhaar but struck down several contentious provisions to safeguard privacy and prevent misuse of data. The overall balanced approach means that Aadhaar usage will now be limited to certain specific purposes such as delivering welfare schemes and filing income tax. The apex court partially struck down Section 57 of the Aadhaar Act thereby preventing private companies from using Aadhaar's biometric identification system to provide services. Similarly, the court also struck down Section 33 (ii) which allowed disclosure of identity information and Aadhaar authentication data in the interest of national security. Additionally, Aadhaar now is not mandatory for opening bank accounts or getting mobile phone connections. Nor can it be compulsory for school admissions. The court has also asked the Centre to bring a robust law for data protection as soon as possible. Taken together, the Supreme Court verdict clearly spikes Aadhaar as a master, all-purpose identification tool.
○Too much dissent on Aadhaar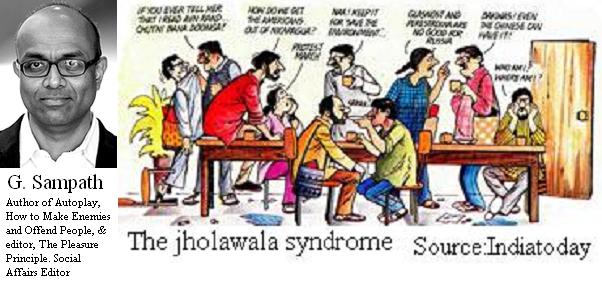 【New Delhi】It really amazes me how some people will never admit that they were wrong. Take, for instance, this whole anti-Aadhaar-wine-and-cheese-loving-paid-urban-Naxal-pro-JNU gang.
 The Supreme Court has definitively settled the matter in favour of Aadhaar by a thumping majority of 4:1. And yet, these incorrigible, Fabindia (Indian style one piece)-wearing pseudo-jholawalas (long-haired hippie Communists) ignore the four in favour and keep going on and on about the lone dissenting judgment, as if dissent is everything!
【News source】
The imperative of impact assessment
Aadhaar Judgment: Supreme Court has done well to place restrictions on the unique identifier
Full text: Supreme Court Aadhaar judgment
Aadhaar verdict HIGHLIGHTS: Rahul Gandhi thanks Supreme Court for supporting 'Congress' vision'
Too much dissent on Aadhaar
New breed of hangers-on appears along with genuine social activist
○One world:
The aim of SEAnews
◆Recruitment of Ad-SEAnews Canvassers
Your Comments / Unsubscribe
SEAnews Twitter
SEAnews Messenger
SEAnewsFacebook
SEAnewsGoogle
SEAnews eBookstore
SEAnews eBookstore(GoogleJ)
SEAnews world circulation