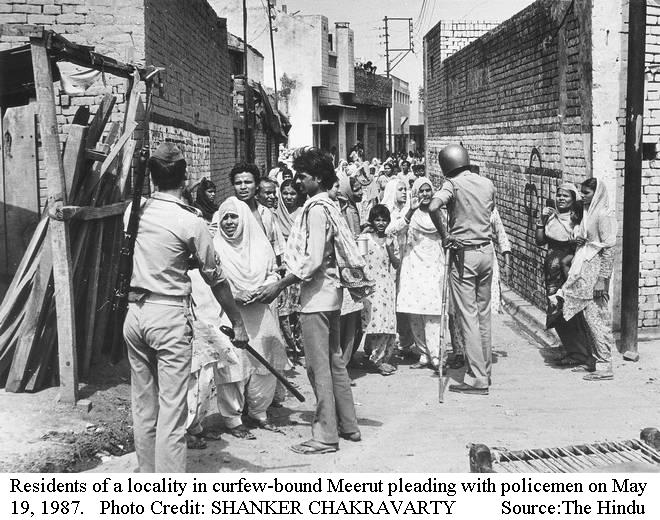 【New Delhi】On October 31, the Delhi High Court sentenced 16 former personnel of the Uttar Pradesh Provincial Armed Constabulary (PAC) to life imprisonment for abducting and shooting dead 38 persons, all Muslims, at Hashimpura in Meerut in 1987.
 On May 22, 1987, the western Uttar Pradesh city of Meerut was engulfed in communal violence over the Babri Masjid dispute in Ayodhya. The PAC and the Army launched a search operation at Hashimpura, after two rifles belonging to the PAC personnel were allegedly looted by "anti-social" elements and a relative of a Major was killed near the area. The PAC rounded up 42-45 men, young and old, and packed them into a yellow-coloured truck belonging to the C-Company of the 41st Battalion and drove them away. But instead of taking them to the police station, they were taken to a canal near Ghaziabad. The PAC personnel then shot dead the men with their .303 rifles and dumped some of the bodies into the Gang Nahar (canal) and the rest into Hindon river. However, five survived the shooting, pretending to be dead and swam through the waterbodies.
 The case was built on their testimonies, as they recounted the experience. The CB-CID, which was handed over the probe, filed a chargesheet in the criminal court in Ghaziabad in 1996. And over 20 warrants issued by the court over the next three years failed to produce an outcome, the High Court noted in its order. The trial of the cases was later transferred to Delhi on the orders of the Supreme Court after the victims' families said they were not satisfied with the progress of the investigation. Following this, charges were framed against the accused (19 originally, but three died during trial) by the trial court in May, 2006 for murder, criminal conspiracy, kidnapping, disappearance of evidence and rioting, among others. However, in 2015, all 16 PAC men were acquitted by the trial court, which noted that the evidence required to connect the accused to the killing was missing. The verdict was challenged by the victims and their families, and the National Human Rights Commission was allowed by the court to intervene, seeking further probe.
 And on October 31, 2018, more than 31 years after the crime, the High Court overturned the 2015 verdict of the trial court. The High Court's order is likely to be challenged in the Supreme Court. This means the accused may still have a chance to escape or may be too old to serve the sentence. The victims could have another round of legal battle. Moreover, only subordinate personnel of the PAC were punished while none of their superiors were touched, raising questions of impunity and accountability beyond this case.
【News source】
Hashimpura, where justice was served after 31 years
○One world:
AD-SEAnews
◆Recruitment of Ad-SEAnews Canvassers
Your Comments / Unsubscribe
SEAnews Twitter
SEAnews Messenger
SEAnewsFacebook
SEAnewsGoogle
SEAnews eBookstore
SEAnews eBookstore(GoogleJ)
SEAnews world circulation