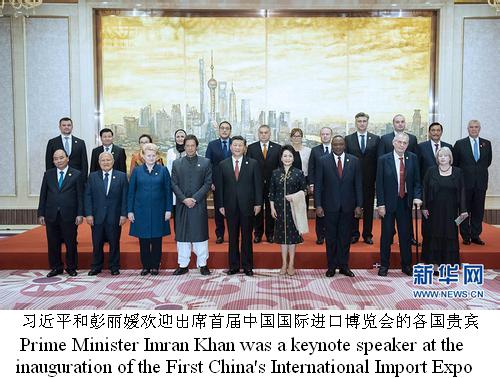 【Islamabad】Prime Minister Imran Khan has visited China from the 2nd to the 5th November. Khan has been holding talks with Chinese leadership - President Xi Jinping and Premier Li Keqiang. Khan has been warming up ties with China and hopes to get a better deal with China. Pakistan wants to avoid any package from the Western sources because the Western sources have doubts about the China-Pakistan Economic Corridor (CPEC) and many issues related to the package.
 In Shanghai, he attended the First China's International Import Expo (CIIE) along with other ministers. Prime Minister was a keynote speaker at the inauguration of the Expo. Khan said that as the Belt and Road Initiative (BRI) gives shape to a global community of shared interests, this Expo will help spread dividends of freer trade, among more closely integrated economies.
 Khan wants to cut down some of the projects that also come under the CPEC. As such that Karachi-Peshawar Railway may face a cut down of US$ 6 billion and will receive US$ 2 billion instead. Khan's focus is on Balochistan and Khyber Pakhtunkhwa to complete the projects. Punjab and Sindh might face fewer amounts.
 Khan has been considering more on aid from China than the International Monetary Fund (IMF). From Saudi Arabia, he secured $3 billion funding from his recent visit besides differed payment for oil imports worth about U.S. dollars three billion for a year. If the Saudis will work in Balochistan, this may also irk Iran. China prefers that Saudis stays be out from Balochistan so that China may work smoothly. China does not want to be in any projects involving the Saudi-Iranian rivalry. Under the new circumstances, China will see how to assist Pakistan and to implement the CPEC.
 While making a speech at Shanghai, Khan said that "CPEC is a mechanism to forge even closer connectivity between the Middle East and China, and between Central and South Asia."He said that "we are committed to improving our framework of transparency and accountability, leveraging technology for seamless, smart solutions for business and governance."
 The Joint Statement explained that both sides stressed that China and Pakistan are good neighbours, close friends, iron brothers and trusted partners. Khan commended President Xi Jinping's visionary BRI that aims at enhancing regional and international connectivity.
 They have inked 15 Memorandum of Understandings (MoU). The two sides agreed to further consolidate and expand bilateral economic relations as a matter of high priority and to strengthen multi-faceted pragmatic cooperation in trade and investment. Both sides reiterated the importance of people-to-people contacts and cultural exchanges and agreed to encourage mutual visits of nationals of the two countries. Both sides agreed to improve visa facilitation for mutual visits.
 Both sides agreed to further enhance defence cooperation, maintain high-level visits and exchanges at various levels between relevant departments of the two armed forces, make full use of the China-Pakistan Defence and Security Consultation mechanism, deepen cooperation in areas such as military exercises, training cooperation, personnel exchanges, and equipment and technology cooperation.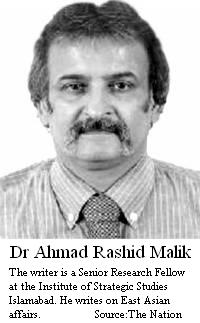 Both sides reaffirmed their commitment to the purposes and principles of the UN Charter, promoting international peace and security, and safeguarding the contemporary world order and the UN-centric international system.
 Like all predecessors, Khan has once again reaffirmed ties with China. Pakistan is keen to learn from China in all fields and Xi wants to build a 'new era' of ties between the two nations. Time is not far away when Pakistan would become a replica of Chinese development in South Asia.
 The writer (Dr Ahmad Rashid Malik) is a Senior Research Fellow at the Institute of Strategic Studies Islamabad. He writes on East Asian affairs.
【News source】
Imran Khan in China
○One world:
The aim of SEAnews
◆Recruitment of Ad-SEAnews Canvassers
Your Comments / Unsubscribe
SEAnews Twitter
SEAnews Messenger
SEAnewsFacebook
SEAnewsGoogle
SEAnews eBookstore
SEAnews eBookstore(GoogleJ)
SEAnews world circulation