◆Sri Lanka Parliament votes against Rajapaksa govt: Big boost for Wickremesinghe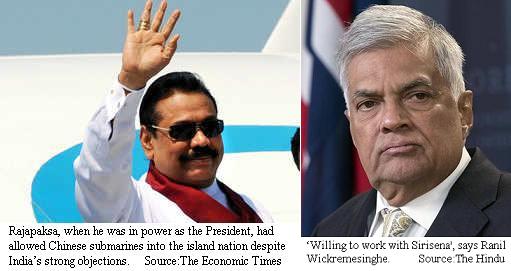 【New Delhi / Colombo】The Sri Lankan parliament on November 14 passed a "no-confidence" motion against the Mahinda Rajapaksa government, giving a major boost to Prime Minister Ranil Wickremesinghe, who was sacked by President Maithripala Sirisena on October 26.
 The parliament was convened today after an interim order by the country's Supreme Court which overturned Sirisena's controversial decision to dissolve the parliament and halt the preparations of snap polls in January next year. Sirisena dissolved Parliament after it became clear that he lacked support from lawmakers to install Rajapaksa as the new prime minister following the sacking of Wickremesinghe as premier.
 A total of 122 legislators in the 225-member assembly supported the no-confidence move against Rajapaksa. It was nine more than the mandatorily required 113. The result however does not automatically mean that Wickremesinghe has won the constitutional showdown. Rajapaksa's allies said they could not accept the vote, shouting "this is illegal". An aide of Sirisena said that he was most likely to hand over power to Wickremesinghe's United National Party (UNP) after Rajapaksa failed to defeat the no-trust move.
 Rajapaksa, under whose rule Sri Lanka achieved its 2009 victory in a decades-long conflict against rebels from the Tamil minority, is seen as a hero by many among Sri Lanka's Buddhist majority. He has been accused by diplomats of human rights abuses during the war, which he denies, reported Reuters.
○India looks to safeguard strategic interests in Sri Lanka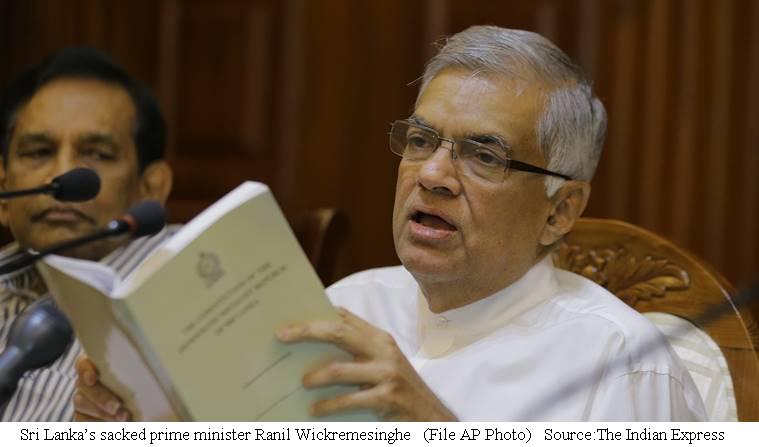 【New Delhi】India expects the incoming government in Sri Lanka, which is in the midst of a constitutional crisis, to safeguard India's strategic interests including disallowing any Chinese military base in the island nation and timely implementation of India-funded projects. India is funding a number of infrastructure and energy projects in Sri Lanka.
 Sri Lankan President Maithripala Sirisena dismissed Prime Minister Ranil Wickremesinghe on October 26 and appointed Mahinda Rajapaksa as PM. Rajpaksa faces a floor test in Parliament on November 14 amid allegations of horsetrading backed by Chinese money and Wickremesinghe's claims that he continues to enjoy the support of the majority.
 Earlier, Rajapaksa, when he was in power as the President, had allowed Chinese submarines into the island nation despite India's strong objections. Later, although PM Wickremasinghe allowed buyback of Hambantota Port by the Chinese, he had made it clear that his country would not host any Chinese military installations or submarines.
 Meanwhile, Mr. Wickremesinghe said to The Hindu at Temple Trees, the official residence of the Prime Minister, that he is willing to work with President Sirisena, if given a chance to prove his majority in Parliament.
【News source】
Letter to BS: India should not succumb to Donald Trump's pressure
Sri Lanka political crisis: Big boost for Wickremesinghe, Parliament votes against Rajapaksa govt
Rajapaksa fails to crack floor test, power vacuum in Lanka
India looks to safeguard strategic interests in Sri Lanka
'Willing to work with Sirisena', says Ranil Wickremesinghe
○One world:
AD-SEAnews
◆Recruitment of Ad-SEAnews Canvassers
Your Comments / Unsubscribe
SEAnews Twitter
SEAnews Messenger
SEAnewsFacebook
SEAnewsGoogle
SEAnews eBookstore
SEAnews eBookstore(GoogleJ)
SEAnews world circulation