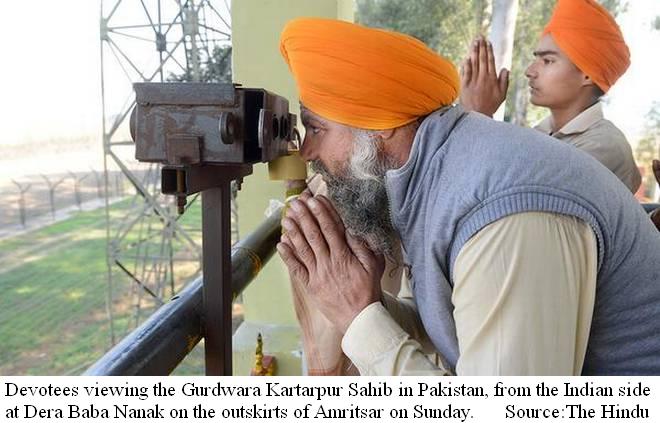 【New Delhi】To begin with, the emergence of the Kartarpur corridor and cross-border invitations are unique since they come at a time when India and Pakistan have had no dialogue and little contact. However, according to former officials involved in the past dialogue process who spoke to The Hindu, this is the first time Pakistan has publicly accepted the demand for the corridor, that was made first by PM Vajpayee during his Lahore visit in 1999 and raised regularly by leaders of the Sikh community.
 "It just shows that India-Pakistan relations can change very quickly, and change over issues which are not expected," said former High Commissioner to Pakistan TCA Raghavan.
 "This is a significant and important development," former special envoy and former High Commissioner to Pakistan Satinder Lambah, who ran the back-channel for years, said. " I don't recall any Pakistani proposals on Kartarpur being made in the past, so this is new." "It is also significant that the first word publicly on this came from the Pakistani Army Chief (General Qamar Bajwa), a fact that got lost, at the time in his embrace with (Navjot) Sidhu."
 The controversy over Mr. Sidhu's embrace in India seemed to suggest that the proposal had hit a dead-end, while in fact the Pakistan government went ahead with its plans to reconstruct the roughly four kilometres of the road on its side of the border.
 Amongst other concerns, say former security and officials and diplomats, will be ensuring security of the corridor on both sides, guarding against infiltration, with the overhanging worry that pilgrims from India would be "brainwashed" by Khalistani separatist groups in Pakistan. Gurdwara Darbar Sahib in Kartarpur, Pakistan, is located 4.5 km from the border at Dera Baba Nanak, Punjab.
 "These factors will be taken into account by the government, no doubt, "said former R&AW chief Vikram Sood, adding, "What is puzzling is the sudden announcement and timing of the corridor, as it goes against the government's stated policy on Pakistan." "Finally, the concept of a 'faith corridor' for pilgrims itself is unusual, as cross-border human corridors are usually used for refugee crises and anti-terror operations, and the Kartarpur corridor may set a precedent for other such cases like the Sharda Peeth in Pakistan Occupied Kashmir, where the "Save Sharda committee" has asked for the cross-LoC bus route to be opened for Kashmiri Pandit pilgrims."
 Meanwhile, welcoming the Kartarpur corridor Pakistani Hindu lawmaker Ramesh Kumar Vankwani told The Hindu that he hopes the Indian and Pakistani government would extend the concept of "faith corridors" to other shrines, including Dargahs and Mosques in India, and the Hinglaj temple in Balochistan as well as the Anandpur temple in Khyber Pukthunkhwa.
【News source】
Kartarpur marks a fresh start
○One world:
The aim of SEAnews
◆Recruitment of Ad-SEAnews Canvassers
Your Comments / Unsubscribe
SEAnews Twitter
SEAnews Messenger
SEAnewsFacebook
SEAnewsGoogle
SEAnews eBookstore
SEAnews eBookstore(GoogleJ)
SEAnews world circulation