◆Sidhu says opening of Kartarpur by PM Imran Khan will be written in golden words in history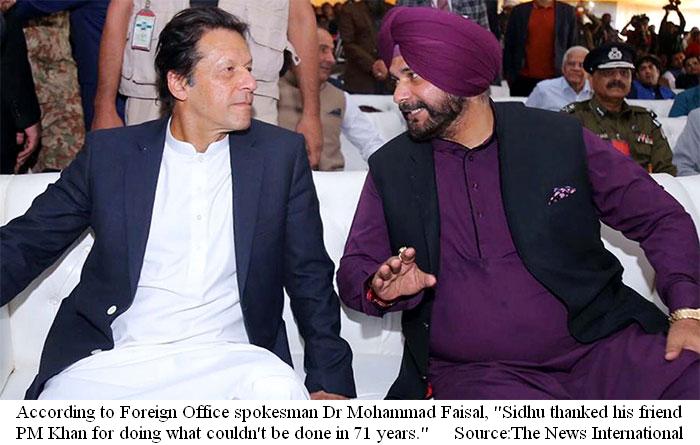 【Islamabad】Former Indian cricketer-turned-politician (Indian National Congress) Navjot Singh Sidhu has thanked his friend Prime Minister Imran Kan from the entire Sikh Community over Kartarpur corridor. Navjot Singh Sidhu said the governments of Pakistan and India are equally appreciable for facilitating to realize the dreams of over 120 million Sikhs around the world.
 Sidhu said this corridor will connect the hearts of people, adding that the opening of corridor by Imran Khan will be written in golden words in history. Sidhu expressed good wishes for Prime Minister Imran Khan and thanked his efforts for opening the highly religious place of Sikhism. According to Foreign Office spokesman Dr Mohammad Faisal, "Sidhu thanked his friend PM Khan for doing what couldn't be done in 71 years." Also, speaking at the ground breaking ceremony of Kartarpur corridor, Indian Punjab Minister for Tourism and Culture Sidhu said religion should never be seen through the prism of terrorism and politics. He added "we need to revise the thinking about peace."
 "The bloodshed and violence should be stopped for the sake of peace as war is not solution to any problem," Radio Pakistan reported.
○Imran delivered a googly and India sent two ministers: Pak Minister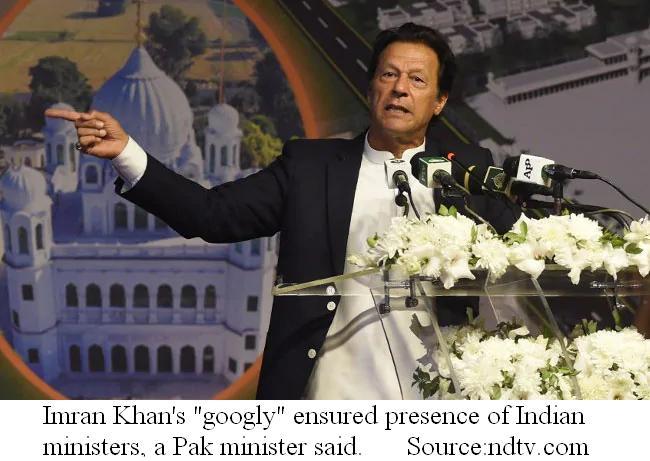 【Islamabad】Pakistan Foreign Minister Shah Mahmood Qureshi said on November 29 that Imran Khan bowled a "googly" to ensure Indian government's presence at the groundbreaking ceremony of the landmark Kartarpur Corridor.
 Mr Qureshi's remarks came a day after Foreign Minister Sushma Swaraj categorically ruled out the possibility of resumption of bilateral talks with Pakistan unless Islamabad stops cross-border terror activities against India. Pakistan earlier invited Ms Swaraj for Wednesday's ceremony. Ms Swaraj was however, unable to travel to Kartarpur Sahib due to "prior commitments". India was represented at the Kartarpur corridor events by Union ministers Harsimrat Kaur Badal and Hardeep Singh Puri.
 Though the suggestion for the move went from India years ago, Mr Qureshi said that the opening of the Kartarpur border was a "big achievement" of the Imran Khan government, which on Thursday completed the first 100 days in office after winning the general elections in Pakistan. Using a cricketing term, Mr Qureshi said, "Imran (Khan) delivered a googly and India sent two ministers to Pakistan." A googly is a leg-spinner's prize weapon, which is almost undetectable.
【News source】
Sidhu says opening of Kartarpur by PM Imran Khan will be written in golden words in history
"Imran Khan Delivered A Googly And India...": Pak Minister On Kartarpur
○One world:
The aim of SEAnews
◆Recruitment of Ad-SEAnews Canvassers
Your Comments / Unsubscribe
SEAnews Twitter
SEAnews Messenger
SEAnewsFacebook
SEAnewsGoogle
SEAnews eBookstore
SEAnews eBookstore(GoogleJ)
SEAnews world circulation